Rare varietals In Australia
I Need Your Help!
If you know a variety that is used by just one or two winemakers and isn't listed here use the comment form at the bottom of this page or contact me.

There are over 150 wine grape varieites grown commercially in Australia.  Most are described on a dedicated page of this website, but there are quite a few varieties which are used by just a few wineries. And of course the situation is changing rapidly.
So listed on this page are some of those varieties which are used by just a few wineries.  You never know, some may catch on.
Most pages on this website are works in progress.  This page is even more so. New varieties will be added fairly regularly, others will graduate to just an emerging variety as a few more winemakers get on board and the variety will be given its own page.
Ancellotta 
This red wine variety from Emilia-Romagna in Italy is valued for the deep colour, acidity and tannins it brings to blends.  Outside of Italy it is used in Brazil.  The only Australian producer of Ancellotta that I am aware of is Water Wheel in the Bendigo Region who use it in blends with Zinfandel.
Arinto
This is a Portuguese white wine variety from the region of Bucelas just north of Lisbon.  In fact the variety is also know as Arinto de Bucelas.  It is used by Dell'uva wines in the Barossa Valley and by Amato Vino in the Riverland region of South Australia
Assyrtiko
This variety is from the Greek island of Santorini.  It makes well structured high acid white wines despite the hot harsh conditions where it grows.  Jim Barry in the Clare Valley have introduced the variety into Australia and produced their first vintage in 2016.
Aucerot
This wine is referred to a "mystery wine". The vineyard was planted from cuttings from the Bailey's vineyard in Glenrowan. Aucerot at the Glenrowan vineyard was planted from cuttings obtained from Europe in the early 1900s. They were removed in the 1980s. I remember buying a couple of bottles of "Auslese Aucerot" about 1980. It was a desert style wine that aged very well.
The variety is a mystery because no one seems to know its true identity. Aucerot is not the same as the French variety Auxerrios, despite the similar name. It is quite possible that the variety no longer exists in Europe.

Currently Ciavarella's in the King Valley use Aucerot as a blending partner with Verdello to make a "white port" sytle.

Clairette
This variety is sinking into obscurity.  Even in its stronghold in southern France it is losing popularity.  It generally makes light everyday white wines as a varietal, or it is commonly blended with Trebbiano (Ugni Blanc) or Vermentino.  
But a few winemakers take care and make quite characterful wines from it.
Some Australian Producers of Clairette
Honeytree Estate Hunter Valley
jb Wines Barossa Valley
Mount Mary Yarra Valley
Spinifex Barossa Valley
Shavkapito
This is an unusual red wine variety from Georgia.  It is being introduced into Australia by Anna Hooper of Cape Jaffa Wines in the Mount Benson Region of the Limestone Coast. The story behind the introduction of this variety is told in this article on the AAVWS website.
The more common Georgian wine variety in Australia is Saperavi.
More rare varieties in Australia
The list below is of wine varieties that I believe are vinified by just one, two or three different wineries.  
There are undoubtably more varieties being introduced to be added. As more wineries start to use these varieties I will make full pages about them.
Aleatico  
Aligote 
Alvarelhao 
Arenal 
Baco noir  
Baroque 
Bianco d'Alessano  
Biancone  
Blaufrankisch 
Bonvedro  
Bourboulenc 
Brachetto  
Cabernet Sanzey 
Caracosa 
Caverdella 
Cornifesto  
Counoise  
Chanel Paradisa  
Chasselas 
Cienna  
Crouchen  
Cortese  
Corvina 
Counoise  
Cygne Blanc
Doradillo 
Dornfelder  
Fer 
Flora 
Fragola 
Freisa 
Furmint  
Gouais 
Grenache gris 
Grillo  
Jacquez  
Kerner  
Kyoto 
Lambrusco Maestri  
Madeline Angevine 
Malian 
Marzemino 
Mavrodaphne 
Melon de Bourgogne 
Palomino 
Petit Meslier  
Picpoul  
Pignoletto 
Refosco  
Rondinella 
Rossola Nera 
Rorer Veltliner 
Rubienne  
Rubired 
St Laurent
Saint Macaire  
Sauvignon gris 
Scheurebe  
Schioppettino  
Schonburger 
Shalastin
Siegerrebe 
Tinta Negra Mole  
Torrontes  
Trollinger  
Tyrian  
Villard Blanc  
Zweigelt  
Learn More about Grape varieties
Get your copy of
De Long's Wine Grape Varietal Table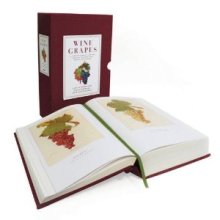 Wine Grapes by Jancis Robinson, Julia Harding and José Vouillamoz
Before you go
Please subscribe to my newsletter...

I promise not to abuse your inbox. You will receive no more than three emails per month, most often just one, and you can unsubscribe at any time.