Marsanne White Wine Variety
There has been renewed interest in the Marsanne grape variety in Australia over the past decade.
For many years the best known example was from Chateau Tahbilk in the Nagambie Lakes region of Central Victoria. The 'Chateau' has disappeared from the winery name but the wine just goes on improving.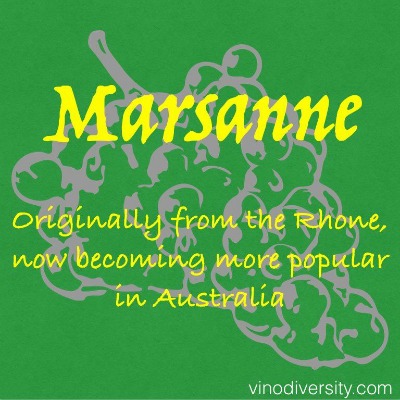 This variety is a native to the Hermitage area in the Rhone Valley where it is often blended with other Rhone white varieties, and Roussanne and Viognier. It is one of eight grape varieties permitted in the Cotes de Rhone appellation.
Wines made with this variety improve markedly with bottle age. It is less common for white wines to improve with bottle age, but wines made from this variety are exceptions.
With age Marsanne wine develops a beautiful golden colour and the flavour rounds out to something resembling baked apples. For this reason Tahbilk, the most prominent producer of this wine in Australia, have two releases of the wine. At the time of writing you can get the 2015 vintage or wines from most vintages back to 2008.
The older wines are showing the early effects of aging but will keep much longer given good cellaring conditions. So put aside a bottle of this fine wine for ten years or so and see what happens. It is worthwhile joining the Tahbilk wine club to keep your stocks of Marsanne up.
Marsanne variety in blended wines
Marsanne is often blended with other Rhone White wine varieties. Some wineries such as Torbeck in the Barossa Valley and Mitchelton in the Nagambie Lakes are producing a
Marsanne Viognier Roussanne
blend. D'Arenberg of McLaren Vale are producing a Marsanne Viognier with the intriguing name of The Hermit Crab.
Australian Wineries Using Marsanne Wine Variety
You can buy some Marsanne online here
All Saints Estate Rutherglen | Angullong Wines Orange | Ansted & Co Bendigo | Arlewood Estate Margaret River | Armstead Estate Heathcote | Badgers Brook Yarra Valley Yarra Valley | Banca Ridge Granite Belt | Barwon Ridge Wines Geelong | Battely Wines Beechworth | Beechtree Wines McLaren Vale | Beelgara Estate Riverina | Belgrave Park Winery South Coast Zone | Ben Haines Wine Co Yarra Valley | Bent Road Wines Granite Belt | Bianchet Yarra Valley | Bimbadgen Estate Hunter Valley | Bird On A Wine Yarra Valley | Botobolar Mudgee | Brumfield Yarra Valley | Bullers Calliope Rutherglen | Calais Estate Hunter Valley | Cape Horn Vineyard Goulburn Valley | Cape Jaffa Mount Benson | Cape Mentelle Margaret River | Charlies Estate Wines Swan Valley | Chateau Pato Hunter Valley | Churchview Estate Margaret River | Cofield Wines Rutherglen | Collector Wines Canberra | Connor Park Bendigo | Coombe Farm Vineyard Yarra Valley | Crane Wines South Burnett | Cypress Post Granite Belt | Dalfarras Nagambie Lakes | D'Arenberg McLaren Vale | Del Rios Geelong | Djinta Djinta Gippsland | Dogrock Winery Pyrenees | Domenica Beechworth | Gilligan McLaren Vale | Goulburn Terrace Nagambie Lakes | Growlers Gully Upper Goulburn | Hanging Rock Winery Macedon Ranges | Happs Margaret River | Harman's Ridge Estate Margaret River | Heathcote Winery Heathcote | Heritage Estate Granite Belt | Hewitson Barossa Valley | Hidden Creek Granite Belt | Honey Moon Vineyard Adelaide Hills | Jarrets of Orange Orange | Jinks Creek Winery Gippsland | Jones Winery and Vineyard Rutherglen | Kooroomba Queensland Zone | Lark Hill Winery Canberra | Lillian Pemberton | Lindenton Wines Heathcote | Little River Wines Swan Valley | Little's Winery Hunter Valley | M. Chapoutier Australia Mount Benson | McHenry Hohnen Margaret River | McIvor Creek Heathcote | McIvor Estate Heathcote | McPherson Wines Nagambie Lakes | Melaleuca Grove Upper Goulburn | Mitchelton Nagambie Lakes | Monument Vineyard Central Ranges Zone | Mount Burrumboot Estate Heathcote | Munari Heathcote | Murray Street Vineyard Barossa Valley | Paxton McLaren Vale | Penny's Hill McLaren Vale | Petersons Glenesk Estate Mudgee | Pfeiffer Wines Rutherglen | Piggs Peake Winery Hunter Valley | Poachers Ridge Vineyards Mount Barker | Postcode Wines Hunter Valley | Ravensworth Wines Canberra | Rimfire Vineyards Darling Downs | Riverina Estate Wines Riverina | Rutherglen Estates Rutherglen | Saint Derycke's Wood Southern Highlands | Seppelt Great Western Grampians | Showblock Estate Southern Fleurieu | Sirromet Queensland Coastal | Spinifex Barossa Valley | Stanton Estate Queensland Zone | Stefani Estate Heathcote | Steinborner Family Vineyards Barossa Valley | Stone Ridge Granite Belt | Stumpy Gully Mornington Peninsula | Summit Estate Granite Belt | Tahbilk Nagambie Lakes | Tallarook Wines Upper Goulburn | Tamburlaine Hunter Valley | Tarrawarra Estate Yarra Valley | Tawonga Vineyard Alpine Valleys | Tellurian Heathcote | Tempus Two Hunter Valley | Terra Felix Upper Goulburn | The Story Wines Grampians | Torbreck Vintners Barossa Valley | Trifon Estate Goulburn Valley | Tulloch Hunter Valley | Turkey Flat Vineyards Barossa Valley | Valhalla Wines Rutherglen | Wandoo Farm Central Western Australian Zone | Wanted Man Heathcote | Waratah Vineyard Queensland Zone | Warrabilla Wines Rutherglen | Warramunda Estate Yarra Valley | Winewood Granite Belt | Wirruna Estate North East Victoria | Witches Falls Winery Granite Belt | Woop Woop Wines McLaren Vale | Wrattonbully Vineyards Wrattonbully | Yalumba Wine Company Barossa Valley | Yarra Glen Yarra Valley | Yering Station Yarra Valley | Yeringberg Yarra Valley
Keep in touch with Vinodiversity
Just enter your details below and you will receive an occasional newsletter letting you know all about the alternative varietal wine scene in Australia and beyond.