How I was able to retire...
...and become busier than ever!
I now own my own wine business but I have freedom to work from home or anywhere in the world.
Well I haven't really retired, but I no longer have a boss to interfere with me when I am trying to get some work done. Nor do I have to put up with all of the nasty office politics that used to get me down. Being able to retire is a recent phenomenon.
I'm a Baby Boomer, one of the lucky generation. Our's is the first generation, at least in the western world, where most people get to have an extended length of retirement. Men born in 1900 had a life expectancy of about 67 years and were expected to work until they were 65.
It's different today. Anyway this the story of how at the ripe old age of 55.25 I gave up being a wage slave and took control of my own working life. It really started a few years before when I started seriously saving for retirement. As a public sector worker for most of my life I had a reasonable amount in superannuation, but not enough to live comfortably, at least if I didn't wish to stay in the workforce until I turned 65. So what to do?
Years ago I heard the career advice
Find something you like doing, then find someone to pay you to do it
Sounds good, but I was never bold enough or imaginative enough to bring it off, although I have had some interesting and satisfying jobs in my time.
Now after I turned 50 in the millennium year (remember that?) I started to feel indefinable stirrings in my psyche, sort of like what happened when I was a teenager but focused above my shoulders rather than below my waist. So I was looking around. Maybe I could somehow make some spare change out of the internet, but how? At the time I was building databases and websites at work but I didn't have a clue how to actually make money from the internet.

Then I stumbled across a thing called SBI, and things started to fall into place. I just started reading about something called affiliate marketing, and I even downloaded a free book. Somehow the logic of it, and the honesty of it got me hooked.

Of course there are plenty of Get-Rich-Quick schemes on the net. Just sign up, pay a few hundred dollars and suddenly you will be fabulously wealthy, with an enlarged bank account and other bits. Thousands of Nigerian widows with millions of stolen dollars to share will be knocking on your door.

SBI is different! It has verifiable proof
What's so different about SBI?
Well, they say making money online is simple, but not easy. You don't have to be a techno whiz, but you have to actually do some hard work, just like any other business. So, like that bit of career advice above, I started planning what to do after I told my boss I was letting him go.

First find something you like doing... Well let's do this systematically. Write down a longish list of what you like doing.

When I did my list I had about 143 things on it. A few items that were on my list were

#4 Drinking wine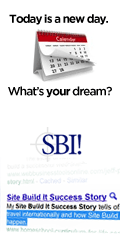 #5 Talking to people

#8 Talking to people and drinking wine at the same time

#15 Talking about wine

#17 Listening to other people talk about wine

#24 Reading about wine

#26 Learning about wine

#42 Finding new types of wine

#238,396 Listing to people drivel on about Chardonnay

So there seemed to be a pattern here, a passion even. But I needed some help to turn this passion into a hobby.

This is where SBI came in. They even have special page about turning your passion into a business. The advice here is that you need to find something which is interesting to you, so that you will be able to engage your creativity. So you don't start out looking for something you think is wildly lucrative, you want something you will enjoy.

Getting people to buy stuff from the internet is a bit of a challenge. Some people go crazy with programs like eBay, but most people go onto the internet to get information, not to buy stuff.

So what do you do... give them the info they are looking for, then they will buy from you. Maybe not today, but they will come back with their credit card out one day.
So how did SBI help me?
Somewhere they say "why build a website when you can build a business" That's it in a nutshell.

SBI is a complete package, it starts with checking out your passions to see which ones can be used to build a business around, generating keywords to build your pages, how to make the pages link together, how to get visitors to your site and researching how to get money from your pages, there's dozens of modules.

It costs about the same as a normal hosting package, but it comes with lots of other built in stuff like a spam proof email service, a newsletter service, autoresponders, search engine optimisation, RSS, XML, Blogging, and absolutely loads of training and manuals. Some of the manuals even talk to you if you are feeling too lazy to read! There are more modules than you can poke a stick at, but an Action Guide gets you up and going. Start of with a simple site then build and elaborate on it as you go.

The best thing I found was that I could keep working on getting information about my little niche of alternative varietal wines and leave the techo stuff to SBI. Seriously, if you can compose and send an email and tie up your own shoe laces in the same 24 hr period then you can build a site (and a business) with SBI. They look after all of the boring back-room tasks and the highly skilled business of optimizing your pages with the search engines. Another thing is that although I'm completely in control I'm not alone.

There are lot's of info guides to help and a wonderful forum full of enthusiastic people who help me to think up creative ways to use my site. In a way it's just like an online university of making a living from the web. There is even a family notice board to keep me inspired.
What happened to me?
I now have a business...not just any business but one that I enjoy working in. I'm not making a fortune (yet), but I'm having fun.

My Vinodiversity site is in Google's top ten for lots of wine related keywords. I've published a book, and have another on the way. I visit wineries and wineshows and enjoy "working" on my business. I've conducted a few wine tastings, again something I love doing. People come up to me for advice or just to have a chat.

Most of all I have something purposeful and creative to do with my time, but I am so much busier now that I don't go to work in an office in the city.
Can you do it too?
You bet. SBI has materials and tools to get you started on a web based business which matches your interests or experience. You need only rudimentary skills, you learn as you go. Like any business you have to invest some time to get started. Remember it's not get rich quick. You also need to use some creativity to make your website yours. There are no technical barriers to get started. There is lots of help in turning your idea into a business, getting the right keywords, building interesting pages, getting traffic and getting things to sell.

Maybe you want to build a travel related site to show off an area you know well, or maybe you are about to retire but not senesce. Why not start out by looking at the SBI Affiliates Masters Course. It's free, no email address, no credit card. The course is a downloadable PDF file for you to study at your leisure.

Or you might like to see SBI's advice on how to have a fulfilling business after you retire.
Update 2011
I'm still retired, or am I still working? I don't really know, does it matter? I spend most of my time doing things I want to do - money cannot make you any happier than that. I'm still not rich in money terms but I get to do everything I want.

I travel regularly for wine (business or pleasure? - who knows) I've organised a few Aussie winelovers to come with me for a trip to Italy to attend a wine school run by a new friend who I met through my website.

I meet and talk with lots of people who share my passion, and after 6 years I'm still as passionate as ever. I've written and marketed a book foor geeky winelovers. I've learnt lots and I'm still learning.

Of course I've had to put some work into Vinodiversity, but it pays off. Without SBI I may never have started, and I certainly would not have had the success I've had.

Do you want to turn your Passion into a part time or retirement job?
Keep in touch with Vinodiversity
Just enter your details below and you will receive an occasional newsletter letting you know all about the alternative varietal wine scene in Australia and beyond.