Riverland Wine Region in South Australia
The Riverland Wine Region of South Australia is an irrigated region along the Murray River from the border with Victoria downstream to Blanchetown.
Renmark
is the major city in the region. It was established when the surrounding districts were developed for irrigation by the Chaffey Brothers. Other towns along the Murray include Berri, Loxton, Barmera, Waikerie, Morgan and Blanchetown.
Important alternative grape varieties in the Riverland Region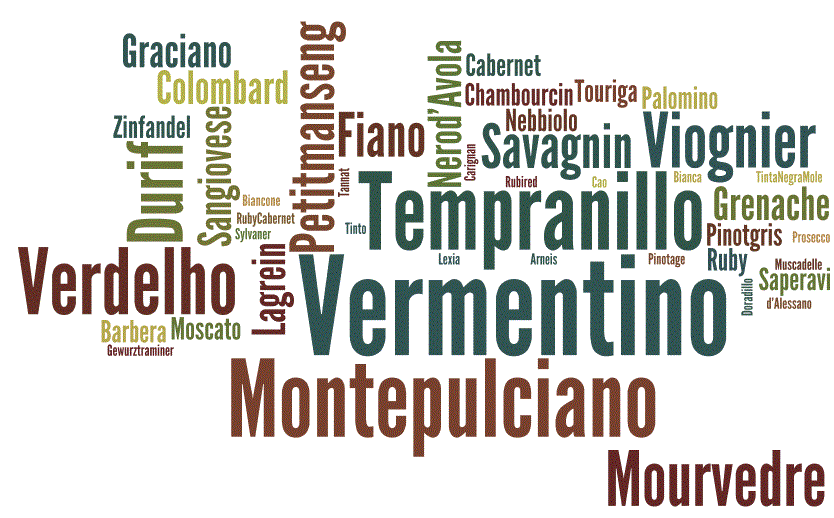 Click the image to see varietal wine index
Size of text denotes relative number of wineries with each variety.
The climate is hot and continental. Evaporation rates are very high and viticulture in this region is impossible without irrigation. Although the region is not well known it produced some 25% of Australia's grapes.
It is fair to say that until recently the Riverland Region was seen mainly as emphasising quantity over quality, but recent changes in technology and attitude have lead to some interest in producing quality wines.
Many of the vineyards are owned by or under contract to large operators from other regions. However the growing list of local producers below shows that there are now significant makers based in the region.
Angoves have been a family operated business for generations. More recently Kingston Estate and Banrock Station have become prominent innovators in the region.
Like other inland wine regions in Australia this region is under threat from long term climate change. The availability of water is already an issue as the drought continues to dry the rivers of the Murray Darling Basin. The extreme heat wave in March 2008 was a reminder of need for planning for climate change.
The varietal profile of the region is changing. Producers are looking for new varieties to make better quality wines. Kingtson Estate's Empiric Range is a long term project to develop new varieties in the region.
In more recent years Eric Semmler and Jenny Semmler at 919 Wines have worked on a range of new varieties to the region with considerable success.
Among white wines we may expect to see more varietal Viognier and Verdelhos, both proven producers in warmer climates. Southern Italian wine varieties such as Montepulciano, Nero d'Avola, Fiano, Vermentino, Grillo and the rare Bianco D'Alessano are among the alternative varieties that will shape the future of this region.
Petit verdot has shown it can produce firm, flavoursome wines with good colour in warm to hot regions. There are quite a few producers in the Riverland region with success with this variety. In future Durif may have a role, as may some of the Southern Italian varieties such as Aglianico and Nero D'Avola.
Some wineries in the Riverland wine region using alternative varieties
919 Wines Durif, Graciano, Muscadelle, Palomino, Petit manseng, Sangiovese, Savagnin, Tempranillo, Tinto Cao, Touriga, Vermentino | Angoves Winery Biancone, Carignan, Colombard, Doradillo, Gewurztraminer, Grenache, Lexia, Moscato, Palomino, Petit verdot, Pinot gris, Rubired, Ruby Cabernet, Sylvaner, Tempranillo, Verdelho, Vermentino, Viognier | Australian Old Vine Wines Chambourcin, Colombard | Banrock Station Fiano, Montepulciano, Moscato, Petit verdot, Pinot gris, Savagnin, Tempranillo | Bassham Fiano, Graciano, Lagrein, Montepulciano, Nero d'Avola, Petit manseng, Vermentino | Bonneyview Petit verdot | Cirami Estate Durif, Fiano, Lagrein, Montepulciano, Sangiovese, Saperavi, Savagnin, Vermentino | Donegal Wines Verdelho | Illalangi Wines Petit verdot, Verdelho | Kahlon Estate Wines Petit verdot | Kingston Estate Arneis, Barbera, Durif, Petit verdot, Tempranillo, Verdelho, Viognier, Zinfandel | Loch Luna Verdelho | Mallee Estate Tempranillo | Nelwood Wines Petit verdot | Oak Works Chambourcin, Durif, Lagrein, Montepulciano, Nebbiolo, Petit manseng, Pinotage, Saperavi, Tannat, Tinta Negra Mole, Vermentino, Zinfandel | O'Donohue's Find Mourvedre | Omersown Wines Savagnin | Organic Vignerons Australia Grenache, Mourvedre, Viognier | Pennyfield Wines Mourvedre, Petit verdot, Touriga, Viognier | Salena Estate Bianca d'Alessano, Colombard, Fiano, Graciano, Montepulciano, Nero d'Avola, Petit verdot, Sangiovese, Vermentino, Viognier | Sigismondi Estate Wines Petit verdot | Spook Hill Wines Barbera, Durif, Grenache, Mourvedre, Nebbiolo, Petit verdot, Ruby Cabernet, Tempranillo | Staffordshire Lane Montepulciano, Nero d'Avola, Vermentino | Switch Vermentino | Thomson Estate Tempranillo | Torambre Wines Mourvedre, Ruby Cabernet, Verdelho | Whistling Kite Montepulciano, Petit manseng, Petit verdot, Vermentino
Please leave a note in the comment box below if you know of any other wineries using alternative varietal wines in this region.