Canberra District Wine Region
The Canberra Wine Region
incorporates the Australian Capital Territory and a larger area of New South Wales. It is formally known as the Canberra District. It is part of the Southern New South Wales Zone, which also includes the Hilltops, Gundagai and Tumbarumba wine regions.
For legal land tenure reasons the vast majority of the vineyards are outside the ACT, many of them clustered around the town of Murrrumbateman on the Federal Highway, north of the city of Canberra. There are other wineries clustered around Lake George, to the east, which has a different climate influenced by the Lake George Range.
Most of the vineyards here are young, having been established after 1990. The scale of production in the Canberra wine region is generally small, the exception being the large winery and vineyard established by Hardy's in the late 1990s.
The climate of this region is influenced by the altitude (vineyards here are between 500m and 850m)and its location away from the ameliorating influence of the sea. As in all inland cooler wine regions spring frosts are a hazard on some sites. Careful vineyard site selection is needed to make sure cold air is able to drain away from the vines.
Drought is a frequent restraint on production. The hot summer days are tempered by cold nights and the cool autumn allows slow ripening of quality fruit.
The coolish climate allows white wine varieties to ripen and several wineries have had success with Riesling, Pinot gris and Viognier. Clonakilla Shiraz Viognier wins high accolades, but they also make an impressive varietal Viognier. Among the red varieties showing considerable promise here are Sangiovese and Tempranillo.
In his book The Future Makers wine writer Max Allen profiles Lark Hill, Clonakilla and Mount Majura wineries in this region.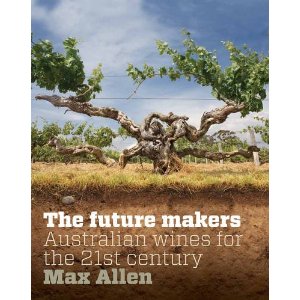 Future Makers: Australian Wines For The 21st Century
Details here
Canberra wineries using alternative varieties include
Barton Estate Malbec, Petit verdot, Pinot gris, Sangiovese, Viognier
Brindabella Hills Sangiovese, Viognier
Capital Wines Sangiovese, Tempranillo
Clonakilla Viognier
Doonkuna Wines Sangiovese
Eden Hall Barbera, Pinot gris, Viognier
Even Keel Wines Shiraz Viognier
Four Winds Vineyard Sangiovese
Jeir Creek Viognier
Kamberra Viognier
Lake Geroge Pinot gris, Tempranillo
Lambert Vineyards Gewurztraminer, Pinot gris
Lark Hill Winery Gruner Veltliner, Pinot gris, Sangiovese, Viognier
Lerida Estate Pinot gris, Shiraz Viognier, Viognier
Little Bridge Gamay, Grenache, Sangiovese
Long Rail Gully Pinot gris
Madew Wines Pinot gris
McKellar Ridge Viognier
Mount Majura Graciano, Pinot gris, Tempranillo
Mundoonen Viognier
Murrumbateman Winery Verdelho
Pankhurst Wines Sangiovese, Tempranillo
Pialligo Estate Pinot gris, Sangiovese
Quarry Hill Wines Sagrantino, Savagnin, Tempranillo
Ravensworth Wines Marsanne, Sangiovese, Viognier
Shepherds Run Gewurztraminer
Surveyor's Hill Winery Touriga
Taemus Wines Shiraz Viognier
Yarrh Wines Sangiovese
Yass Valley Wines Barbera, Gewurztraminer, Verdelho
Touring the Canberra Wine Region
The region has over 30 boutique wineries with cellar doors operating. You can enjoy food at several of these wineries as well, ranging from a cellar door platter or a full a la carte restaurant meal.
The city of Canberra is the obvious base for visiting the region. It contains numerous accommodation options an other tourist attractions. You can stay in a country cottage, or in the city. Either way you won't be far away from some beautiful wineries.
Do you have a favourite wine or winery in the Canberra region? Perhaps you know about a special restaurant or place to stay. You can share your secrets via this page.
Explore accommodation options in the Canberra Region
Here is an excellent interactive map of the Canberra Wine Region