Alpine Valleys Wine Region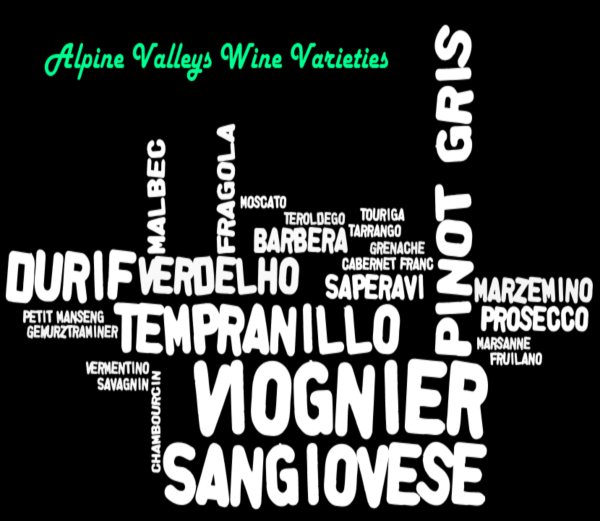 So with careful site selection grape growers can select from a large number of wine varieties which they can cultivate successfully. And, as we shall see, there are some innovative producers here who are at the cutting edge of the varietal revolution taking place in the Australian wine industry.
Petit Manseng and Saperavi
These interesting varieties are being pioneered in this region and in the nearby King Valley.
Petit Manseng is a white variety from SW France where it is used to make dry and semi-sweet wines of some distinction.
Saperavi is a deep red wine variety from Georgia that is grown throughout the wine regions of the former Soviet Union and Eastern Europe.
The region consists of the valleys of four rivers, namely the Buckland, Buffalo, Keiwa and Ovens. As the name suggests the valleys are part of the Australian Alps and are close to the ski resorts of Mt Hotham, Mt Buffalo and Falls Creek.
The wine industry is no doubt helped by the steady stream of tourists all year using the Great Alpine Road connecting NE Victoria to the Gippsland Lakes region.
There are plenty of reasons to visit the Alpine Valleys wine region in all four seasons. In winter the area provides the gateway to the Victorian snow resorts. In spring and summer there are opportunities for bushwalking and sightseeing in the alpine forests and high plains meadows. The townships of Bright and Harrietville are busy tourist resorts which are particularly popular in the autumn when the deciduous trees are showing their glory.
This means that whenever you visit the region you will have a great choice of accommodation, restaurants and tourism related activities.
The wine industry is one that has benefited from the winding down of the tobacco industry centred around Myrtleford. The influence of the Italian heritage of some of the grapegrowers and wineries shows up in the use of Italian varieties.
Wineries using Alternative Varieties in the Alpine Valleys Region
Annapurna Pinot gris | Boyntons Feathertop Dornfelder, Durif, Fruilano, Pinot gris, Prosecco, Saperavi, Sangiovese, Savagnin, Tempranillo, Vermentino, Viognier | Eaglerange Wines Tempranillo, Viognier | Folino Estate Durif, Fragola, Lexia, Marzemino, Moscato | Gapsted Barbera, Cabernet franc, Durif, Fiano, Grenache, Malbec, Moscato, Petit manseng, Pinot gris, Prosecco , Saperavi, Tarrango, Tempranillo, Touriga, Verdelho | Goombaronga Park Sangiovese, Viognier | Gundowringla Wines Malbec, Viognier | Kancoona Valley Wines Verdelho | Mayford Wines Tempranillo | Michelini Barbera, Fragola, Marzemino, Pinot gris, Sangiovese, Teroldego | Mount Buffalo Vineyard Viognier | Mout Buff Wines Barbera, Durif, Prosecco | Ringer Reef Winery Montepulciano, Moscato giallo, Nebbiolo, Petit manseng, Sangiovese, Vespolina* | Souters Vineyard Gewurztraminer | Tawonga Vineyard Chambourcin, Durif, Marsanne, Verdelho, Viognier |
*Vespolina is an unusual red wine variety from Piedemonte.