Hello



Well 2016 looks like is it done and dusted. My 12th year of Vinodiversity. And I still love it. I love the feedback from you dear readers. I love meeting all of the small innovative winemakers who have transformed our wine culture. I love seeing restaurant wine lists and bottle shops with more than the same old varieties. I hope I have emboldened a few consumers to actually try a few alternative varieties.
---
Maps
I now have a full range of De Long Wine Maps (except the French Metro map) and the wine Grape Varietal Table available for shipping. Apologies to those who have had to wait for the French maps. (My stock control isn't perfect and there was a delay in getting new supplies sent).

So if you would like to purchase before Christmas please do so.

SOON!

Check out the range here Products
---
Rewine in East Brunswick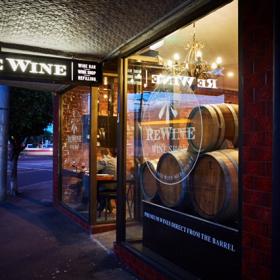 Those of you who are lucky enough to live in Melbourne can now see a range of the De Long Wine Maps framed at the newly opened Rewine Wine Store at 522 Lygon Street East Brunswick. That's way up north, well away from the famous pizza shop strip of Lygon Street Carlton.

You can even buy some of the De Long Maps ready framed.

But even better if you visit you can taste some of the excellent range of wines. Maybe you can enjoy a snack while you relax with a glass of wine straight from the barrel.

I reckon the Barbera is a hit but there is plenty of others to choose from. And you can buy the wines in Rewine's eco-friendly reusable, refillable bottles. Rewine
---
Do you operate a small winery and need some help with social media?
I have formed a closed Facebook group to exchange ideas about how to get better value out of the time we devote to Social media.
The members are helping me with feedback on some pilot products. Membership by invitation, email me if you are interested in joining. Email Darby
---
Coming to Italy in 2017?
There are still places at Terronia the Wine School of Southern Italy. The course will be held in May 2017. You might like to check the details at
---
Pinterest
I been using Pinterest lately. I have had an account for a while but have recently decided to post and repost some pix.

Some informative stuff there, especially if you like to see informative infographics. Vinodiversity on Pinterest
---
Cheers

Darby