Hello



My book Emerging Varietal Wines of Australia goes on pre sale this week. It will be available on Friday 24 October (US time which is Saturday our time) but you can preorder your copy now.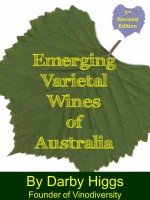 I have just completed the third edition of my book Emerging Varietal Wines of Australia. Well, at least I have finished the electronic version which is now on pre sale. As a Vinodiversity News reader I am offering you a 50% discount on the price.
Use the coupon code XW74M for your discount
Strictly limited time. The coupon expires this weekend.
The printed version will be available in a few weeks
Maybe you'd like to help me spread the word around about the book. If you are on Facebook you could "Like" my new Author Page at https://www.facebook.com/EmergingVarietalWinesofAustralia Or perhaps you could tweet about it, or give me a mention in some of the other social media channels.
If you have some friends who may be interested in finding out about interesting wines please forward this on to them. If you are a friend of a subscriber and not one yourself you can get your own sub (it's free!) from https://www.vinodiversity.com/wine-newsletter.html That way you can read your own copy without the coffee stains and dog ears.
Just one more reminder. You can subscribe to my digital Vinodiversity Magazine for a 12 month trial at https://www.vinodiversity.com/nezod.html
Cheers
Darby