James Halliday's Australian Wine Companion 2007
The James Halliday Wine Companion 2010 will be released soon.
Yes, I know you still think it's 2009, but the publishers like to get this book out well before Fathers' Day. It does make a great gift!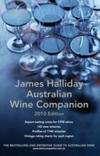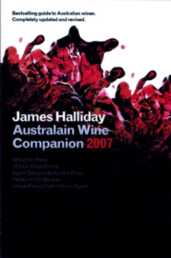 James Halliday's Australian Wine Companion 2007 is the most useful book any lover of Australian wine can own. The 2007 Companion is the 10th.
As usual this bestselling book has been expanded in line with the industry it describes. There are 230 new winery entries, making a total of 2176. Forty six wineries from last year's companion have disappeared.
The Companion now boasts 784 pages, and the cover looks a little sturdier than the 2006 edition. My 2006 copy is very grubby after 12 months of hard service.
A comprehensive review of James Halliday's 2007 Wine Companion will be put onto this site in the next few days. Rest assured, this guide remains by far the most comprehensive and authoritative guide to Australian wine.
You can preorder your copy here
Buying your copy of the Wine Companion online may be the best option. You get a discount off the Recommended Retail Price that pays for most of the postage charge. Second and subsequent books on the same order are post free for Australian delivery. Why not combine your order with one for the new James Halliday's Wine Atlas of Australia.
North American and European winelovers note: James Halliday's Wine Companion is released annually in Australia in late July/August, but often it is not available in North America for many months, often March/April of the following year. The bookseller that Vinodiversity uses (follow the link above) will ship it anywhere in the world via International Australia Post Economy Air for just $20.00 Australian Dollars (about $15 US) If you buy extra books on the same order the freight is just $7.50 per extra copy
You can preorder your copy of James Halliday's Australian Wine Companion from our online bookshop.