Vinodiversity Australian Wine Newsletter August 2011
In this issue of the newsletter we have stories about new ways for readers to become involved in Vinodiversity, some interesting wine events, new ways of keeping up to date and Australian wine in Vietnam.
There is also a special notice about buying products from Vinodiversity
In This Issue
Vinodiversity Goes Social
Those who browse Vinodiversity will find a new comments box on the bottom of many of the pages. see for example
my page about Arneis
So guess what I want you to do? Go ahead, it's quick, easy and doesn't add to your waistline. Perhaps you'd like to point out a winery I have missed in my regional or varietal pages. Maybe you've had a great bottle of Fiano with a plate of calamari and would like to tell us about it.
The comment boxes are powered by Facebook but you don't need to have a Facebook account to comment. I know many people are concerned by privacy issues, and I share some of those concerns. However Facebook offers businesses like Vinodiversity an opportunity to quickly open two way conversations with its readers.
If you do have a Facebook account you can share your comment with your friends with just one mouse click.
Federation Square Showcase
Each month at Federation Square wines from regional Victoria are on show. At the monthly event wineries submit wines for judging by a panel and people's choice wineries are decided on by the tasting public.
In August the annual awards nights are held. At this event the overall winners for the year are announced and the wineries associated with the bets wines from the previous 12 months showcases get to show their wines.
Visitors to the showcase get to taste a cross section of the best wines of various styles and varieties from throughout Victoria. And of course Victoria has the most diverse range of vines of any state - rich fortifieds and lusty reds from along the Murray and some of the best whites and sparkling from the cooler regions.
I'll be at the showcase with my book and De Long's Maps and varietal chart. Come and say hello.
Keeping up to date
Varietal Wines Australia ePaper
The marvels of modern technology means that there is just so much news out there. Sifting the wheat from the chaff in wine news is tough going.
So I'm doing my bit to help you sort it out. I have started a little weekly paper about the varietal wine scene in Australia. You can read it, and subscribe below.
By subscribing you will get a reminder email whenever a new edition comes out each weekend.
Vinodiversity blog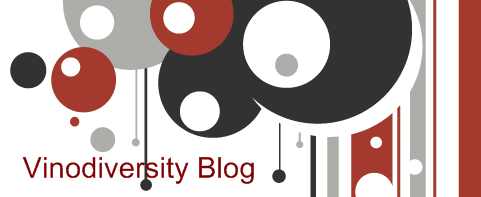 I now have a blog attached to the main Vinodiversity site. I am using the blog to post articles on a slightly wider scope, and to write some snippets.
You might find some news about my wine and food travels and occasionally a general rant. The blog has a facility for readers to leave comment.
Check out the Vinodiversity Blog here
Hot August Night Wine Plus Event
My friends Jenny and Eric Semmler of 919 Wines in the Riverland wine region are champions of varietal wines in their region. They are also music fans and so each year they combine their passions in a food, wine music event Hot August Night on Saturday 6 August.. Sounds great after the chilly July we are having. This year they have included a photographic exhibition in the mix. Photographers Rod Bradtke and Tony Barich have combined their work into the thematic exhibition Our Riverland Environment based on the birdlife of the Riverland and Mallee habitats.
For details please see 919 wines
Australian Wines in Vietnam
Many Australian wineries are keen to find export markets, UK, USA, China, Japan and India are popular destinations. There are however opportunities in other emerging Asian markets, for example, Vietnam.
My friend Anna Diep has written an interesting article about prospects for Australian wine exports to Vietnam. It originally appeared in the Australia and NZ Grapegrower and Winemaker Magazine but you can see the full article Vietnam – an emerging market for Australian wine by Anna Diep
Buying products from Vinodiversity?

We are a small operation. In fact there is only one of us. I do all my own packing and shipping. I will be unable to ship items from 12 September until 25 October this year so if you wish to order any of these products.
These items are popular as gifts so if you want to treat your dad for Fathers day or need to give a hint to someone about a gift you'd like to receive please do it soon.
The mailing delay will occur for the items listed above, for delivery to Australian Addresses. You will receive uninterrupted service if you order my book through a bookseller, or the maps and charts directly from
De Long Wine Info
.
And of course our wine supply partners Secretvines, Winemarket and WineMakersChoice will be operating as usual.
Some Recently Updated pages on Vinodiversity.
Keeping up to date with the evolving wine scene is quite a challenge. I learn about wineries releasing new alternative varieties every week. Sometimes an existing winery finds its way into Vinodiversity's ambit by releasing a new variety, sometimes new wineries are established and come into production, even though the Australian industry as a whole is slowing down.
The new entries get added to my database and eventually find their way onto their respective pages, either onto a special varietal page, or onto the regional listing.
Some of the pages recently updated include regional pages for Riverland and the Heathcote; varietal pages for Verdelho, Nero d'Avola, Durif and Vermentino.
There are still places available at the week long residential school Terronia the Wines of Southern Italy in October.
If you have the time and the inclination this would be a great opportunity to learn about this fascinating group of regions and the wines produced there.
Just enter your details below and you will receive an occasional newsletter letting you know all about the alternative varietal wine scene in Australia and beyond.