Vinodiversity Australian Wine Newsletter May 2011
In this issue of the newsletter we have stories about a free offer for a subscription to a gorgeous digital magazine, closing in my double hundred with 190 grape varieties, The new wine map of France, some recently updated pages on Vinodiversity and wine maps for sale.
In This Issue
Free Digital Magazines
The publishers of Fine Wine have contacted me with an offer of free subscriptions to their magazines as they are moving from Print to Digital format.
FINE Magazines wants to take part in the battle against climate change, saving forests through digital reading. As a part of this campaign we will donate one cent to global environmental conservation for every new reader of our digital publication, and our goal is to donate 200 000 euros by the end of 2012. We are well on our way, having raised already 150 000 euros...


Anne Lepola, Editor

FINE publish two magazines which are of interest to Vinodiversity readers FINE Wine and Fine Champagne. You can subscribe to either, or both, for a free trail until the end of the year.
These magazines are high quality and are mounted on a first class digital reading platform. You can read them directly online without giving information or credit card details.
My Wine Century
Last month I wrote about numbers and wine, a rant cajoling readers to ignore numbers. This month I'm back into numbers, this time counting grape varieties, not points.
The Wine Century Club is a creation of the De Long Wine Company. It is used to promote their wine grape varietal table, but also to encourage people to think outside the square - just like Vinodiversity.
Oz Clarke's Grapes and Wines Updated Edition
The best single book to have to browse and have as a reference for learning about grape varieties and the wines made from them is Grapes and Vines by Oz Clarke and Margaret Rand.
You know Oz from his wine shows with James May of Top Gear fame. Well OZ is one of the most knowledgeable and entertaining wine writers around. Grapes and Wines First appeared about 10 years ago and I used an earlier edition for most of the background info in preparing the Vinodiversity website. The lates revised edition was published last year so I decided to upgrade my favourite reference.
I Highly recommend this book. You can see my more complete review of Oz Clarke's Grapes and Vines here.
Wine Map of France - coming soon
Vinodiversity readers who have purchased the De Long Wine Map of Spain or the De Long Wine Map of Italy will know just how much care and research goes into preparing these beautiful products. So no wonder the production schedule gets a little behind at times.
Coming Soon!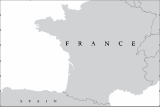 The Wine Map of France is due out shortly and I will be making a wholesale purchase for supply to Australian customers. Meanwhile if you haven't got a copy of the other maps,
Iberian Peninsula
and
Italy
I have plenty in stock at the moment. Follow the links above and I will supply them.
I have plenty of wine varietal tables available at the moment as well.
Wine Showcase Reminder
The program for the Fed Square Victorian Regional Wine Showcase has changed slightly after the event in March had to be cancelled. In my view the new program looks much stronger with each of the next five showcases having something interesting to offer.
The new program for the next few months is
1 and 2 June 2011 Alpine Valleys, Beechworth, King River, Rutherglen, Glenrowan
6 and 7 July 2011 Bendigo, Heathcote, Sunbury, Murray Darling and Swan Hill
3 and 4 August 2011 Annual Fed Square Wine Awards
The Showcase is held from 4-30pm to 8-30pm on the first Wednesday and Thursday of each month at Melbourne's Fed Square. Cost is $25.00 but you can download a voucher for 2 tickets for the price of one from the website. A good excuse to invite a friend for an enjoyable evening.
I usually have a stall there at which I show and sell my books, maps and charts, but mainly I enjoy chatting to winemakers and winelovers. Drop by and say Hello.
Download a 2 for 1 voucher here.
Follow Vinodiversity on Facebook
Y
ou can follow Vinodiversity on it's own facebook page
.
Become a fan, like it or whatever and you will be kept up to date between newsletters.
Wine School in Southern Italy
Southern Italian varieties are becoming more important in Australia, and there is no better place to learn about them than at their source. In October 2011 I will be attending Terronia, the New Wine School in Southern Italy. There are still some vacant places and I'd love a few more Vinodiversity readers to join us.
For more details you can fill in the form on the bottom of this page or see this page about Silvestro's wine school and cooking school
Best wines of the 2010 Vintage
Sandwiched between two very difficult vintages of 2009 and 2011 in Eastern Australia the early signs are that 2010 is going to be a great year.
I've started a page Best Wines of 2010 Vintage on Vinodiversity where you can look what some writers are saying. Your contributions are welcome. What is the best 2010 vintage wine you have tried? Maybe you'd like to nominate your best 3, 5 or maybe 10.
Some Recently Updated pages on Vinodiversity.
Keeping up to date with the evolving wine scene is quite a challenge. I learn about wineries releasing new alternative varieties every week. Sometimes an existing winery finds its way into Vinodiversity's ambit by releasing an new variety, sometimes new wineries are established and come into production, even though the Australian Industry as a whole is slowing down.
The new entries get added to my database and eventually find their way onto their respective pages, either onto a special varietal page, or onto the regional listing.
Some of the pages recently updated include regional pages for Margaret River and the Pyrenees; varietal pages for Fiano, Sagrantino, Lagrein and Vermentino.
Just enter your details below and you will receive an occasional newsletter letting you know all about the alternative varietal wine scene in Australia and beyond.