Vinodiversity Australian Wine Newsletter April 2011
In this issue of the newsletter we have stories about the most Vinodiverse winery in Australia, an update on the Terronia wine school in Italy in October; a discussion of what a Parker point tastes (or smells) like; a reminder about my book and how you can get a free sample; a new wine map on the way and details about the forthcoming Regional Wine Showcases in Melbourne.
In This Issue
Best's Nursery Block
The most vinodiverse wine in Australia? I recently visited Best's cellar door at Great Western in the Grampians wine region of Western Victoria. They maintain a small block of vines called the Nursery block that was planted in the 1860s. The block contains a mixture of red and white grapes in a fairly haphazard way. The block is part of our cultural history and occasionally makes some very good wine.
Red Varieties in the nursery block include: Aubun, Cabernet Sauvignon, Carignan, Cinsaut, Dolcetto, Fer, Gamay, Grec Rose, Meunier, Morocain Noir, Olivette Noir, Pinot Noir, Shiraz, Tinta Amarella, Plus a few unidentified vines
White Varieties in the nursery block include:
Bourbeouelenc, Calitor blanc, Chasselas, Chenin blanc, Duorado, Gordo, Gouais, Gueche, Fermint, Frankental, Muscadelle, Ondenc, Palomino, Piquepoul, Sauvigonasse, Sauvignon blanc, Troyen and some vines which have defied identification.
Separate wines are made from the nursery block in better years when the yield is high enough to justify the work. In other years the grapes are blended in with other wines. In 2010 a delightful soft red was made, but no white. If you are visiting Best's cellar door they are well worth seeking out.
Wine Ratings. What Does a Point Taste Like?
I've written an article about my take on the obsession with giving numbers to wine. I know it sells wine and that you can become rich if Robert Parker gives you 95, but what does it mean? Even the most basic understanding indicates that wine has more than one dimension. But we have assorted systems which give wine ratings all one dimension but certainly not consistent or logical.
Unfortunately for the foreseeable future we are stuck with a hodgepodge of systems giving points out of 100, or 20, or stars or glasses. None of them are as simple as you might expect.
This article, Wine Ratings, summarises and clarifies some of the systems and has a link to a downloadable guide to a helpful chart that shows the comparison between systems.
Want a free sample of Vinodiversity the Book?
Vinodiversity the Book
is available as a paperback book and as a an electronic version from Amazon.com and from GuideGecko the travel guide publisher.
1. From Amazon you can buy a hardback version (although it is cheaper to buy direct from me if you're in Australia) or a Kindle version which you can read on your iPhone, iPod touch, iPad, Mac, PC, BlackBerry, Android, Kindle, and Kindle DX. Vinodiversity on Amazon
Read more about Wine Books on Kindle here
2. GuideGecko publish a range of travel guides. You can buy Lonely Planet Guides in hard copy or as Pdf files from them or you can buy specialist niche guides in paper and electronic formats. You can buy an electronic copy of Vinodiversity the Book there. I have a free book called Bacchus and the Bird on GuideGecko. It's about finding your way around the kitchen with a bottle of wine in one hand and a bird in the other. Go to GuideGecko and download your copy. Then tell me what you think.
Wine Map of France - coming soon
Vinodiversity readers who have purchased the De Long Wine Map of Spain or the De Long Wine Map of Italy will know just how much care and research goes into preparing these beautiful products. So no wonder the production schedule gets a little behind at times.
Coming Soon!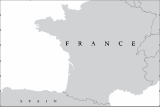 The Wine Map of France is due out shortly and I will be making a wholesale purchase for supply to Australian customers. Meanwhile if you haven't got a copy of the other maps, I have plenty in stock at the moment. Follow the links above and I will supply them.
I have plenty of wine varietal tables available at the moment as well.
For more details you can see fill in the form on the bottom of this page and then check out.
Wine Showcase Program Change
The program for the Fed Square Victorian Regional Wine Showcase has changed slightly after the event in March had to be cancelled. In my view the new program looks much stronger with each of the next five showcases having something interesting to offer.
The new program for the next few months is
6 and 7 April 2011 Upper Goulburn, Strathbogie and Goulburn (including Nagambie Lakes)
4 and 5 May 2011 Pyrenees and Grampians
1 and 2 June 2011 Alpine Valleys, Beechworth, King River, Rutherglen, Glenrowan
6 and 7 July 2011 Bendigo, Heathcote, Sunbury, Murray Darling and Swan Hill
3 and 4 August 2011 Annual Fed Square Wine Awards
The Showcase is held from 4-30pm to 8-30pm on the first Wednesday and Thursday of each month at Melbourne's Fed Square. Cost is $25.00 but you can download a voucher for 2 tickets for the price of one from the website. A good excuse to invite a friend for an enjoyable evening.
I usually have a stall there at which I show and sell my books, maps and charts, but mainly I enjoy chatting to winemakers and winelovers.
Download a 2 for 1 voucher here.
Follow Vinodiversity on Facebook
Y
ou can follow Vinodiversity on it's own facebook page
.
Become a fan, like it or whatever and you will be kept up to date between newsletters.
Wine School in Southern Italy
Southern Italian varieties are becoming more important in Australia, and there is no better place to learn about them than at their source. In October 2011 I will be attending Terronia, the New Wine School in Southern Italy. There are still some vacant places and I'd love a few more Vinodiversity readers to join us.
For more details you can fill in the form on the bottom of this page or see this page about Silvestro's wine school and cooking school
Keep in touch with Vinodiversity
Just enter your details below and you will receive an occasional newsletter letting you know all about the alternative varietal wine scene in Australia and beyond.