Vinodiversity Australian Wine Newsletter Feb 2011
The stories in this newsletter relate to a few great Australian white wine varieties, but I promise have been drinking some Australian red wines -Tempranillo, Sagrantino and Nero d'Avola. We might have a story about them next month.
In This Issue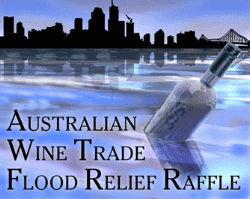 Savagnin and the Death of Chardonnay
Well OK I like a provocative headline! But few people remember how quickly Chardonnay took over the Australian white wine scene. There was virtually no Chardonnay available commercially in Australia in 1980, by 1990 it dominated the scene. I reckon stars can rise and fall in wine just as they rise and fall
Ruddy quickly
in the political scene.
At the Federation Square Wine Showcase in Melbourne this week another blow was stuck to the declining fortunes of Chardonnay.
The People's Choice award for best white wine went to an relatively unknown wine called Saverro made by new entrant Soumah. The wine is made from the Savagnin variety which was established in Australia under the name of Albarino, we now know it is not Albarino but also that it makes very good wine.
Why is it significant that the wine got the accolades this show?
The voters were ordinary wine drinkers, well perhaps a bit more knowledgeable and adventurous than most. They were not wine judges restricted by a firm paradigm as to how a wine was supposed to comply to a style. Secondly the competition was Chardonnay from one of Australia's premium cool climate regions.
Soumah is a new operation in the Yarra Valley, you may not have heard about them in the past but you will hear more of them in the future.
Will Savagnin replace Chardy?
Not in the short term. But it is one of four white varieties will certainly be taking large slabs of market share form Chardy and Sauvignon Blanc over the next few years. Vermentino is the most promising of them, but there is also Arneis and Fiano which are quickly becoming established. Grillo from Sicily is my long term prediction as well.
King Valley Arneis
I've just had a trip to the King Valley where I caught up with a few friends and tasted some wines. The countryside is looking gorgeous at the moment. Plenty of green fields and lush vineyards.
Among the most impressive wines were some 2009 and 2010 vintage Arneis from several winemakers. After about a decade of experience by Australian winemakers we are seeing some great Arneis wine, and this variety is really starting to catch on. The better wines have crisp citrusy fruit up front, plenty of mouthfeel texture and a clean crisp finish. They are probably best consumed in their youth but if you have the patience some of the more acid wines will keep for a few years and mellow out.
You can read more about Arneis including a list of Australian wineries using it on Vinodiversity's Arneis page
Sardines and Vermentino
I recently attended Vermentino and Sardines the Musical. Well it wasn't really a musical it was roadshow/tasting/food pairing event put on by wine writer Max Allen and nine producers of this wonderful wine. The Melbourne lunchtime event featured an impressive array of wines accompanied by simply grilled sardines - a powerful combination for lunch, for tapas style drinks after work or as a first course for a larger dinner.
What impressed me was that nine wine labels were able to cooperate to push this message about this most impressive new variety. They could have waited for a decade or three for Wine Australia to wake up but they took action. In tough times for small wineries every little bit of marketing helps.
There were rumours of a similar event being held for Sagrantino...watch this space.
Wine Vault Regional Events - Tastings, Lunches and Networking
Winevault is a Sydney based wine storage company, but they are more than that - they host wine themed events around the country, (and in New Zealand). The program for this year includes regular events in Sydney, Melbourne and Perth and less frequently in Adelaide, Brisbane, Canberra and Auckland. They are holding a lunch in Melbourne on Friday 18 February with a theme of Italian wines. Cost $60 includes lunch, tip and corkage fees. I'll be there using it to show off the new Italian Wine Map. If you wish to attend this lunch please email Michael Lappen. mlappen [At] mrfm[DOT]com [DOT]au If you want further information about these events, and there are plenty, or if you wish to be notified about any of the others go to
Winevault
and sign up for a free membership.
Wine Flood Relief Raffle
You may remember two years ago a group of wine industry people got together to raise money for the victims of the Black Saturday Bushfires. A similar thing is happening for victims of the floods in Queensland and Victoria. A huge number of prizes have been offered; first prize is valued at $33,000 and there are 200 prizes valued at a total of about $240,000 Wow! The raffle commences at 12.01am (Eastern Daylight Savings Time) on 4 February 2011 and ends at 10:00 am (EDST) on 11 March 2011 You can get more information or better still
buy a ticket online here
Please recommend this to a friend. If the $30.00 ticket price is too much perhaps you can contribute a smaller amount to Tony Abbott's "don't tax my rich mates" fund
Update on Wine School in Italy
A few people have expressed interest in Terronia the wine school to be held in Southern Italy in October 2011. There are still some places left. If you haven't done so already check
out the details here
The following video is a short intro to the wine school. It will give you some idea about Silvestro's love of his region, its food and wines.
The Awaiting Table Wine Program from Jeff Boucher on Vimeo.
This second video is for Silvestro's Cooking School
The Awaiting Table Video from The Awaiting Table on Vimeo.
Follow Vinodiversity on Facebook
You can follow Vinodiversity on it's own facebook page. Become a fan, like it or what ever.