Newsletter June 2010
This is the (approximately) monthly Newsletter of Vinodiversity. If you
subscribe
you will get an email reminder and summary of each newsletter and be eligible for some bonuses like mates rates on the forthcoming book
Vinodiversity in Australia
Welcome to the June Vinodiversity News.
Your feedback...Keep in touch
You can Ask Vinodiversity a Question or contribute answers. Some recent questions have been about Barbera, why wine prices vary so much, more about preservatives, and the pronunciation of Savagnin.
Perhaps give some information or opinions or Advice about wine.
Or if you just want to contact me use the link at the bottom of this form.
Stay up to date by following Vinodiversity on Facebook You can become a fan for more frequent news.
There has been some work and some play for me over the past few weeks. At long last Vinodiversity the Book is in production. I have had a three week break in Central Australia doing some touristy things and visiting a couple of wineries as we passed through the Riverland.
The outback was green and many of the desert lakes had water in them, but it was vast tracts of the irrigation areas that looked like a desert.
Along the Murray Valley many large vineyards and almond groves have been left to die over the summer. These were planted under tax advantaged schemes by investment companies throughout the past two decades. Presumably the water rights have been sold and many of these properties have For Sale signs on them. The companies that set these up are gone but the scars on the landscape and the social fabric in these communities will be around for a while yet.
What a mess! and it was our taxes that subsidised these follies.
Some Good News: Vinodiversity the Book!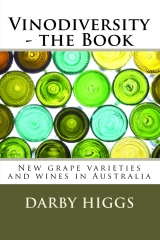 This book is a follow up to
Emerging Varietal Wines of Australia
which I published originally back in January 2006. I will offer
pre-publication mates-rates
to subscribers of Vinodiversity News...so if you are reading this online and didn't get an email reminder then go and sign up for
Vinodiversity News
.
Vinodiversity the book contains the up to date info on 140 or so wine grape varieties in Australia. There are 60 or so wine regions described and all is cross referenced to a listing of 1611 wineries. That's 144 more wineries than there are in Hallidays 2010 Companion. See this page on how you can get your copy of Vinodiversity the Book.
You can watch progress at Vinodiversity the Book page on facebook
Cycling, Eating and Drinking in France
The Tour de France is a must see event on television each year. Last year we were lucky enough to see it in the flesh so to speak as it came thundering out of the Pyrenees into the town of Tarbes. But really it is better to watch on the box, you get all of that lovely scenery filmed from helicopters, the commentary and atmosphere. How will Cadell go? What about some of the other young up and coming Aussies?
What has all of this got to do with wine you say? Well, they do make wine in France. And they have one of the best cuisines in the world. Watching the cycling is more fun with a glass in hand. And you'll need some food.
That's where this latest little gem of a book will be very handy. My friend Claudine Hemingway-Knapp has written Tour de French Cuisine 2009. It's packed with culinary tips and advice for each of the stages of the tour. She has recipes so you can do your own thing with your own culinary tour at home without missing quip from Phil or a word from Paul. The recipes will work even after the Tdf is over.
You can buy Tour de French Cuisine 2009 either as a paperback or get an instant PDF download.
Check it out, while you are over at Guidegecko the publishers you could also check out some of their other guide, they have a great range of wine travel guides.
More reading matter - I've just written a short review of a biography Wolf Blass: Behind the Bow Tie. The book is well worth seeking out as it provides plenty of history about the Aussie wine industry over the past 50 years. See my review of Wolf Blass Behind The Bow Tie
Spanish wine map for sale in Australia
I have a small supply of Spanish Wine Regions maps for sale at $33.00 inclusive of postage to an Australian address.
This map (it covers the entire Iberian Peninsula) was prepared by De Long Wine Info, the makers of the Wine Grape Varietal Chart.
If you order from Vinodiversity for delivery in Australia you will save heaps on postage.
See details here For ordering in Australia or Overseas suppliers.
The Map of Italy will be available in a couple of months.
Federation Square Regional Wine Showcase
The monthly Showcase series continues with the Macedon Ranges and Sunbury Regions on Wednesday and Thursday 2 and 3 June. The Showcase for July will be North East Victoria.
Vinodiversity will be there with supplies of the book for sale. Come and have a chat.
You can see the Wine Showcases 2010 Program here
Vinodiversity's Hotel Booking Service
Going away? You might like to check out this
hotel booking service
.
What's so good about it? Well, it amalgamates the online offers from a number of different booking services and allows you to choose the best deal at the best hotel
So do yourself a favour
Use www.vinodiversity.com/hotels to book your trip.
You'll save time and money,I'll get a small commission from the agent's booking fee.
Write it down now vinodiversity.com/hotels
Our sponsors
My friends at
Secret Vines
continue to come up with the goodies. Secret vines is an outlet for small wineries and there is an emphasis on less common varieties. - Just the ticket for Vinodiversity readers!
Tim Althus makes a point of selling the people behind the wines as well as the wines. This is the exact opposite of other online wine stores who are little more than virtual supermarkets for surplus stock and clean skins.
Secret Vines usually have two 6 packs available, at $99 and $159, both contain some lovely wines that you are unlikely to find anywhere else. They also have specials from a number of small wineries.
See the latest offers from Secret vines or sign up to be notified about their frequent specials and new arrivals .
If you enjoy this newsletter why not tell your friends on Twitter or Facebook about it...just click on the appropriate icon below.