Newsletter December 2009
This the (approximately) monthly Newsletter of Vinodiversity. If you
subscribe
you will get an email reminder and summary of each newsletter and be eligible for some bonuses like the fabulous eCookbook
10 dishes for Sangiovese
Welcome to the December Vinodiversity News.
It's Christmas time again, the season of consumerism, anxiety and overeating.
Have you sorted out the travel plans?
Have you got everyone's gift
? Here's a couple of ideas which may save you some time anad money.
For the home garden cook you could consider. Stephanie Alexander's Kitchen Garden Companion.. It's a bit pricey in the stores but you can get it at a deep discount from one of my partners online stores.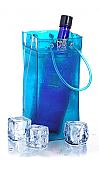 The Tchill bag is another attractive gift. You can use it to carry your wine or keep it cool at the table, on the patio or when you are at the beach. It even works for non wine beverages - you can't get more versatile than that!
Australian readers may wish to buy a Wine Grape Varietal Table from Vinodiversity. I have a few for sale. International readers can go straight to De Long's Wine Info. While there you can check out the Iberian and Californian Wine Maps, or you can buy the wine tasting notebooks.
Now if you really want to give a liquid gift check out Secret Vines below. They have some special wines on offer that you will not see elsewhere. A very special person, you could also use one of their offers to stock up for the holiday season.
Melbourne Alternative Varieties Club
Have you joined yet? We are a small group of winelovers in Melbourne who enjoy stretching the boundaries of our wine tasting experience. We have had two very successful outings so far. We will be having some more next year, based on unusual wines, good food, friendly atmosphere in a small group. Some of us are members of the Wine Century Club, others are aspiring members but the empahasis is on enjoying new wines. We have a facebook group -
details here
- or contact me.
Federation Square Regional Wine Showcase
The monthly showcase winds up for the year this week. Heathcote has it's turn this month so we will see wineries with some great reds (not just Shiraz), and a few interesting whites. Vinodiversity will be there. Come and have a chat. Wine Showcases here
Australian Alternative Varieties Wine Show
The tenth anniversary of The Australian Alternative Varieties Wine show provided an occasion to review the progress of some of the alternative varieties
Pinot Gris/Grigio has all but graduated from the "alternatives" classification. It is now available in most bottle shops and on many restaurant wine lists. at AAVWS 2009 105 wines were entered in 4 Pinot gris classes, Six wines were awarded gold.
Fifty three varietal
Viogniers
were judged, one received a gold medal, (Tahbilk 2008) 8 silvers and 17 bronzes. The strike rate suggests that the variety is being handled well, but in fact there is still large variation in quality of wines from this variety. The good ones capture the apricot/peach flavours in a firm bodied wine, lesser wines are bland or are overburdened with phenolics. I think it requires some luck in the vineyard and plenty of skill to make good wine from Viognier. I'm not sure that the hype around for this variety 5 years ago has been justified, but there are a few very good wines which show that Australian varietal viognier has a future.
The Rhone varieties (Marsanne, Roussanne) and blends were judged together. Tahbilk again won a gold, this time for its 2008 Marsanne, six silvers and 4 bronzes were won out of just 19 entries. There are two types of wine drinkers - those who think Marsanne has been around for years and is not alternative, and those who have never heard of it. The variety is now widely planted in Australia and I think it is a better variety than many people give cit for. Roussanne lives in Marsannes shadow. It deserves more limelight.
Arneis is a variety that seems to have lost some momentum, only 8 wines were entered in this class. Perhaps hot vintages in the past couple of years have meant less good Arneis wine has been made. I remain a fan of the variety and I'm sure we will be seeing more of this variety.
Savagnin is a new class at AAVWS, replacing 'Albarino' after the naming fiasco. Let's hope that the name change doesn't derail the band waggon (mixed metaphor). I find these wines to be very good rather than exceptional.
Vermentino was given it's own class (out of the other whites class of last year). The judges didn't think much of the 13 wines in this class but I reckon that Trentham Estates La Famiglia Vermentino 2008 was the wine of the show. But I'm biased, and opinionated and I like good wine.
Fiano was also given its own class. Beach Road Wines received a gold medal, and a trophy for their 2009 Fiano. Only nine wines were judged in this class, but there will be plenty more in coming years.
Some people may question the inclusion of Gewurztraminer as an alternative, but it has its class, and 17 were judged. With careful handling and marketing this variety will eventually shake off its reputation as being an ingredient to add some flavour to bland irrigated white wine. In the meantime there will be some very good wines for those with the patience to seek them out.
Moscato is a new style which is proving to be a big seller. Low alcohol, sweetness and light combine to make a refreshing drink. Cellermasters and Stella Bella were awarded golds and there were 3 silvers and 8 bronze medals out of 29 entries. These wine are probably not for boring old wine snobs, they are designed to be enjoyed rather than for deep analysis and consideration.
Among the other whites in various subgroups Robinvale's 2008 Kerner stood out with a gold medal. Kerner is a white wine variety which was bred for cool climates, and it thrives in Robinvale!!
Vinodiversity's Hotel Booking Service
Going away? You might like to check out this
hotel booking service
. What's so good about it? Well it amalgamates the online offers from a number of different booking services and allows you to chose the best deal. For example I just tested the service for a three night stay in Victor Harbour in December. Six different different booking agencies came up with offers. One for a double room the others for a Spa room. Guess what? different prices. So do your self a favour. Use
www.vinodiversity.com/hotels
to book your trip.
You'll save time and money
, I'll get a small commision from the agent's booking fee.
The star of the red wine categories was
Tempranillo
. It clearly outscored Sangiovese in the number of wines entered, and in the medal count. My favourite Spanish red variety scored five gold medals (Mount Majura, Crabtree, Nepenthe, Tar and Roses, Yalumba) five silver and 17 bronze medals from 61 entries.
Among the Italian red varieties Nebbiolo has done best. Three golds were awarded (SC Pannell, Galli and Arrivo) five silvers and 4 bronzes, two others were commended (bronze quality). Barbera remains as a well performing sleeper with two gold medals, Skimstone and Centennial vineyards, from just sixteen wines judged. Sangiovese and blends were represented by 50 wines, two received golds.
The popularity of varietal Petit Verdot seems to be in decline, just 17 wines were entered for two silvers and 6 bronzes. Only twelve Durif wines were entered, two received gold, Rusticana and All Saints. Lagrein is also on a plateau, only six wines from four producers were entered.
Zinfandel is another variety that is gaining ground in Australia. Vicognita topped the field of eighteen with a gold. Aside: what to eat with Zinfandel? See Vinodiversity's Zinfandel and Food Page.
The interesting part of the show for me is the other red varieties and blends classes. They must be a nightmare to judge, even though they are divided into medium bodied and full bodied classes. Gold medals in these classes were won by Brown brothers class for 2008 Graciano, Rimfire for a 2008 Touriga Nacional and d'Arenberg for a blend of Sagrantino and Cinsaut called the Cenosilicaphobic Cat. Don't get out your dictionary Cenosilicaphobia is the fear of an empty glass, a condition many of us share.
The AAVWS continues to support growers and winemakers who step out of the square. It rewards excellence and encourages those on the way up. You can do your bit for this part of the wine industry by looking at the other varieties page on the restaurant wine list or in the bottle shop.
Our sponsors
My friends at
Secret Vines
continue to come up with the goodies. Secret vines is an outlet for small wineries and there is an emphasis on less common varieties. Tim Althus makes a point of selling the people behind the wines as well as the wines. This is the exact opposite of other online wine stores who are little more than virtual supermarkets for surplus stock and clean skins.
Secret Vines ususal have two 6 packs available, at $99 and $159, both contain some lovely wines that you are unlikely to find anywhere else. They also have specials from a number of small wineries.
Do yourself a favour, See the latest offers or sign up to be notified of new arrivals .
If you enjoy this newsletter why not tell your friends on Twitter or Facebook about it...just click on the appropriate icon below.