Newsletter September 2009
This the (approximately) monthly Newsletter of Vinodiversity. If you
subscribe
you will get an email reminder and summary of each newsletter and be eligible for some bonuses like the fabulous eCoookbook
10 dishes for Sangiovese
Welcome to the September 2009 Vinodiversity News.
Australia's First Families of Wine
One of the latest initiatives in Australian wine marketing has been the establishment of
First Families of Wine
. Twelve of the largest and oldest family owned wineries have banded together to sell Australia as a quality producer of wine.
The success of larger companies in marketing Australian wine over the past two decades has been quite amazing. Huge volumes of cheap and cheerful wine have been sold into the markets of Europe and North America, but the time has come to move on.
The initiative looks set to bypass the dominance of the large corporations in setting the standards and image of our wine overseas. We certainly need something like this, it is time to get past the image of industrial wine plus a few cult figures like Grange.
The inaugural members of Australia's First Families of Wine are:
• Brown Brothers (Victoria)
• Campbells (Victoria)
• D'Arenberg (South Australia)
• De Bortoli (NSW)
• Henschke (South Australia)
• Howard Park (Western Australia)
• Jim Barry (South Australia)
• McWilliam's (NSW)
• Tahbilk (Victoria)
• Taylors (South Australia)
• Tyrrell's (NSW)
• Yalumba (South Australia)
These companies have a wealth of experience and are big enough collectively to make a difference. What I like about this group is that most are using alternative varieties and in some cases are championing new varieties. For the health of our industry let's hope they succeed.
But they are the big families. Some exciting things are also happening at the other end of the scale. Some small families are also looking to make there mark but you amy not hear much about them... unless you read about Secret Vines
---
Melbourne Alternative Varieties Club
I've got together with a few other varietal enthusiasts to start up a New Varieties Wine Club. New Varieties and a New Club.
We started out with the idea of having a Melbourne Chapter of the Wine Century Club but after some discussion and a glass of Watson's Madiera we thought it might be less nerdy and less intimidating if we changed the name and the theme a little.
So the idea is to have a few tastings throughout the year with the emphasis on new and unusual varieties.
You might like to join the club online see this page for details, or you can just reply to this email expressing an interest. We hope to hold our first event in October.
---
This Month's Recipe: Rognons A la Bordelaise
A la Bordelaise
means in a red wine sauce, especially in Bordeaux. Rognons are kidneys, but you already knew that.
I have just published a nice recipe for Kidneys in Red Wine Sauce. You can use either lamb or veal kidneys. You can serve it with mash, or perhaps with some steamed rice. See the recipe for Rognons a la Bordelaise here
Now what to drink with such a dish? Well the original recipe calls for a Bordeaux, probably a Cabernet Merlot blend or a straight merlot. I've gone for a Petit Verdot, still a Bordeaux variety, but a little more aromatic to go with such a dish.
On the subject of food and wine I have just published a small piece about pairing red wine with fish.
---
Ask Vinodiversity a Question
Vinodiversity readers often ask me about wine related matters. Sometimes people who find my site via Google (about 200 visitors per day find my site this way) and want to ask questions.
I am happy to help and I usually send off a quick reply. But sometimes a question sends me onto a research mission and I feel the results are interesting enough for more general readers as well as the original inquirer. Also other readers may wish to contribute to the answer or even contradict me.
I have built a new section on the website Ask Vinodiversity to share these questions and answers around. You can see what questions have been asked and answered, ask one yourself or join in the discussion.
---
Wine Grape Varietal Table
For the past couple of years I have been the Aussie distributor of De Long's Wine Grape Varietal Table. It is a really informative chart, and a piece of art as well.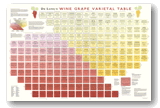 I have a new price, passing on the savings from a better deal with the shipping costs.
Order the wine table online here
The chart is also available for sale at Fall from Grace Wine Shop in McLaren Vale.
You may also inspect and buy the chart at Vinodiversity's stall at the Monthly Fed Square Wine Showcase The September (Wednesday Thursday 2 and 3rd) showcase features the Bendigo wine region. Planning ahead in October the Showcase will feature Gippsland and the North Western Region; November is the time for Western Victoria and we finish the year off with Heathcote in December.
---
Secret Vines
Have you heard the Secret?
A new online wine seller called
Secret Vines
is attracting some attention. I found out about them through my friends at
Vigna Bottin
, an artisan winemaker in McLaren Vale. Paul Bottin makes some excellent Sangiovese and Barbera, he has picked up a gold and a few other medals for his small batch wines.
Secret Vines has just a few small winemakers in its portfolio, plus a couple of import brands. But the wines are special. All are made by small family wineries. Vinodiversity winelovers will find some unusual wines here. They are sold as mixed sixpacks, so you don't have to commit to a large purchase.
See the latest offers from Secret Vines
---