Newsletter February 2009
This the (approximately) monthly Newsletter of Vinodiversity. If you
subscribe
you will get an email reminder and summary of each newsletter and be eligible for some bonuses like the fabulous eCoookbook
10 dishes for Sangiovese
Welcome to the February Vinodiversity News.
Bushfire raffle
The Victorian bushfire tragedy earlier this month has saddened all of us. Many wine people suffered losses, and the industry is doing its bit in the relief efforts.
One activity is a huge raffle of wines and other products donated by many industry players. First prize has a value of approximately $25,000 and there are over 30 other prizes. Details of the raffle are here.
Why not buy a ticket and encourage your friends and workmates to do the same. If you have a blog or website please consider adding a post or link about the raffle.
Ask Vinodiversity a Question
Vinodiversity readers often ask me about wine related matters. Sometimes people who find my site via Google (about 200 visitors per day find my site this way) ask questions. I am happy to help and I usually send off a quick reply.
But sometimes a question sends me onto a research mission and I feel the results are interesting enough for more general readers as well as the original inquirer. Also other readers may wish to contribute to the answer or even contradict me.
I have built a new section on the website Ask Vinodiversity to share these questions and answers around. You can see what questions have been asked and answered, ask one yourself or join in the discussion.
This Month's Recipe: Thai Fish Cakes
Spicy foods from Asia require a little more thought when matching a wine. The stock standard recommendation for Thai and other Asian foods is Gewurztraminer. This is not bad advice but we can go a little further.
My friend Zonda Elliot of Karanto Vineyards in Langhorne Creek has sent me a recipe for Thai fish cakes. These are fairly easy to make at home and can be served as an entree or main course.
And Zonda makes an interesting wine suggestion - Fiano.
Have you tried Fiano? It is an interesting white variety from Southern Italy. It is attracting attention here because of its ability to make crisp flavourful wines in relatively warm climates. After you have checked out the recipe above you might like to see what Karanto Vineyards say about it.
Vintage 2009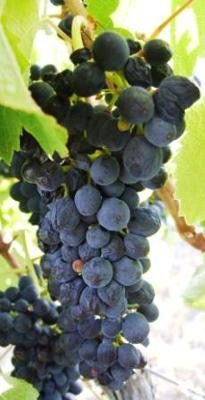 In last month's Newsletter I said that the prospects for the 2009 vintage were good. Unfortunately in South Eastern Australia, where most of the wine comes from, this is no longer the case. For many vineyards 2009 has become a horror vintage.
A brutal heatwave, especially in Victoria, has played havoc with grape quality and yields. Losses due to the heat alone range up to 100% in some vineyards.
The picture shows a bunch of heat effected Shiraz at Lazy Ballerina in McLaren Vale.
Many vineyards and wineries were damaged or threatened by fires, a couple have been destroyed. Smoke taint will be an issue for any wine produced in many Victorian regions.
I have built a Vintage 2009 page on Vinodiversity to collect reports from winemakers around the country.
Thus far I have reports from
The Granite Belt
McLaren Vale
Swan Valley
with more to come.
Winemakers are most welcome to post a short report, others may browse reports and add comments or questions.
In case you missed it this article sums up what makes a good vintage year
Cult wines
You know the names - Grange, Hill of Grace, Mount Mary, Duck Muck, Torbreck, 707 etc.
These are wines that people pay far too much money for. And often they don't intend to drink them. Strange...
Until recently I have not included these wines on Vinodiversity on the basis that most are made from classic varieties, Shiraz and Cabernet.
On reflection these wines and the people who collect them do contribute to the diversity of the Australian wine scene.
Go to my Cult Wines section of Vinodiversity to see what I have to say about some of these wines and find out where you might be able to find some of them.
ABC - A Bit of Fun
Chardonnay used to be the most popular wine variety in Australia. I still produces about half of the crop but people are now drinking more Sauv Blanc, much of it imported. So it seems a little hard to kick a variety on the way down. But I'm it doing anyway!
Buy yours here!
When I can come up with a witty line about Kiwi SB I'll make a T shirt about it too.
Wine Grape Varietal Table
For the past couple of years I have been the Aussie distributor of De Long's Wine Grape Varietal Table. It is a really informative chart, and a piece of art as well.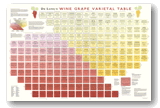 I have a new price, passing on the savings from a better deal with the shipping costs.
You may also inspect and buy the chart at Vinodiversity's stall at the Monthly Fed Square Wine Showcase The March showcase features the Mornington Peninsula.
You may also like to look at the chart, or buy one at Rewine at the Queen Victoria Market. Marshall is always ready for a chat and can sell you some interesting wine in refillable bottles. You can find Rewine in A Shed near the corner of Peel and Victoria Street. It's a little out of the way but well worth seeking out to try some of Rewine's offerings.
Order the wine table online here
---
Tim's Button
The price of Clare Riesling has steadily increased over the past few years. If you need respite from dreadful SB from across the Tasman check out the Ballast Stone Riesling on special from our partner. At less than $15 it is at the right price for a wine with 2 trophies and a gold medal. Don't forget the Clare is the region for the best Riesling in the World.
The De Bortoli Petit Verdot is also a bargain. See these wines beyond Tim's Button.
Please do not press this button unless your name is Tim, or you know someone called Tim!
---
Finally:
Come and say hello at the Vinodiversity stand at
Victorian Wine Regions Showcase
on March 4 and 5. Mornington Peninsula this month.
---