Welcome to the new format of Vinodiversity News
I have changed the mode of delivery of the newsletter as well. Rather than sending the newsletter out as an email I am publishing it on Vinodiversity. It gives me more flexibility.
These days Email spam filters stop elaborate pages and images. Some email boxes fill quickly if newsletters are full of images and multi media. Rather than overloading your inbox I want to be able to deliver quality content so I'm doing it via a different method.
Vinodiversity news is now a two way letter! You can comment on what I say, and tell me it's a lot of codswallop! Nicely of course.
Don't worry, you will still get the email reminder each month if you are subscribed. If you are not subscribed see the link at the bottom of this page.
First, check out the contents and reminders at the left. These enable you to access some of the features of Vinodiversity news without having to scroll down the page. I hope you take the time to explore some of the information and tools on the Vinodiversity site.
You will notice I have done some work on revamping the appearance of the Vinodiversity site as well. I'm going for a cleaner look. I hope you like it and you can find your way around all of the masses of Vinodiversity information and tools.
---
Some wine articles for you
I have been writing some articles for
Suite 101
. This is an online magazine on a broad range of topics. You may like to have a look at the one I wrote about
Sparkling Red
, a favourite holiday season drink for me.
Sparkling reds are versatile they go with all sorts of holiday fare, turkey or a snag on the BBQ.
You could serve a still red straight from the fridge, but a red bubbly can go with the appetisers, main course, cheese or dessert. Try one with a summer pudding!
You can see more of my Suite 101 articles here.
---
Are you sick of James Halliday?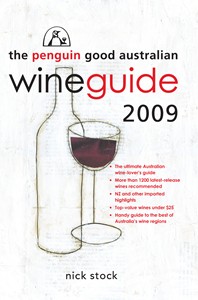 Or at least his Wine Companion? The book is clearly the best and still the most comprehensive, but it is not all that exciting as a read. Even with the new co-author, the Companion concentrates on the tried and true classic varieties. The
Penguin Australian Wine Guide
is back with a new author and it could be worth a look.
With a new author and a new style, the 2009 Wine Guide continues its tradition of providing the most respected and reliable advice. Award-winning wine writer and judge Nick Stock has tasted more than 5000 wines to select the best 1200. His entertaining, jargon-free notes capture the essence of each wine and give us an expert's insight into the experience of tasting, and selecting.
The book is avalable for order at our partner bookstore. If you order before 31/12/08 you can get freight free for orders over $60.00 otherwise flat rate of $6.00 per order.
Have a browse around the store, there are lots of other goodies...wine books, food books, soppy romance books even talking books.
Start at the Penguin Guide and have a look around. Some have considerable discount from the retail price.
If you are a stickler for tradition you can still buy Halliday's book. Buy both and they will come freight free.
---
Best wines of 2008
Some of my favourites for 2008 are (in no particular order)
Centennial Vineyards Tempranillo
Mount Majura Graciano, and their Tempranillo
Pikes Sangiovese Rose
Eldrege Estate Sangiovese Rose
Crittenden's Geppetto Arneis
Tahbilk's Roussanne and Marsanne (Join this club to get some!)
Brown Brothers Vermentino, also Di Lusso's
Just about anyone's Barbera (start with Boggy Creek!)
Rewine Durif at the Queen Vic Market for value!
Irvine's Albarino.
As another year of wonderful wine drinking draws to a close I think I'll share the fruits of my labour. It's all research for me. I do the hard work tasting all these wines so you don't have to.
Where can you get these wines? Try the simple but snazzy Snooth search box in the yellow box on the left. It will even compare prices for you!
Now let's get interactive.
Share your thoughts by using the form below. You can upload a short note about what was good for you this year, or you can comment on what someone else has said. You can even add a photo of yourself or or a label graphic, just keep it nice!
What was your best wine of 2008? (alternative varieties please, we don't want anyone talking about Kiwi Sav blanc!)
Tell Vinodiversity readers about what you enjoyed in 2008
Wine of course. Alternative varieties. Australian or international.
---
Iberian Wine Maps
My good friend Steve De Long has released a new wine map. Just USD 29.95. But if you are quick you can get a discount on the listed price for delivery to our North American friends. See more here! (Sorry I can't offer the discount in Australia, falling dollar and all that!)
---
Tim's Button
Please do not press this button unless your name is Tim, or you know someone called Tim!
---