Varietal Wine Search: Finding wine beyond Google
When we want to find something nowadays we just Google It.
But Google tends to give us too many results... there must be a smarter way. Here are a few options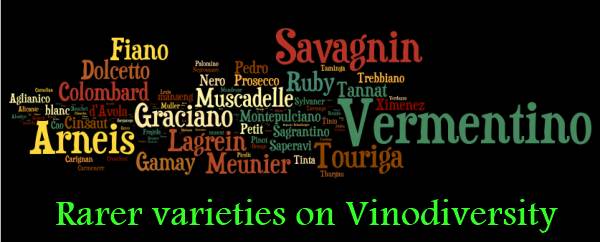 Search Option #1.. it's under your nose
Vinodiversity's list of varieties described on this site is updated frequently. This one's easy. You're nearly there already!
Option #2 Snoop it out with Snooth
The Snooth Service
will find varietal wines and give you names of online distributors and process.
You can read reviews or even add your own.
Just pop your search term into the box below
You can put ii the name of a wine, a variety, a brand, a region of a style of wine>
*Don't forget! When you have done a search put in your location to find nearby physical retailers of the wines.
Option #3 Use auction sites
A note about eBay
eBay is no longer just about selling used stuff from the garage. There are specialist wine merchants using the service as well. Try these
If you want to
buy an unusual wine
you may be able to find it for sale on Ebay. Some older vintages are often available.
The links below will help you search eBay for wines in the appropriate category.
If you want to see what a particular merchant has available on eBay, please use the links on the right.
Try this Link for
or this one for reds
Option #4 A treasure trove of tasting notes

My friend Graham Hastings has masses of quality tasting notes at
GenXY Wines
.
These notes cover the best wines in Australia (and a few from NZ). They are regularly updated and Graham diligently seeks out unusual wine varieties.
Option #5 when all else fails...
Use the Google search box below to
search this site
and the wider web.
---
Still can't find it?
Contact me at vinodiversity via this form.
I may be able to help.
Keep in touch with Vinodiversity
Just enter your details below and you will receive an occasional newsletter letting you know all about the alternative varietal wine scene in Australia and beyond.