Ribeira Sacra in Spains Galica Region
by Evan Pritchard
(Heathcote, Australia)
Evan says:


Ribeira Sacra is a mountainous region in Central Galicia in North West Spain.
It's a mountainous area surrounding the Sil and Miño Rivers that meet at the town of Os Peares, about 25min from the fairly large town of Orense. The terraced slopes on the river banks are covered down to the water line with grapes vines, mostly bush vines with minimal trellising and are all 100% hand tended, pruned and harvested.
It is believed that grapes were first planted on these slopes by the ancient Romans and wine has been produced there ever since. The predominant varieties are Mencía and the white grape Godello along with some Albariño and Merenzao* here and there. The area received its official Denominación de Origen in 1997 and has a continental climate of mild winters and long hot summers.
There are many Bodegas (wineries) to visit both on the banks of the Sil and Miño Rivers and the town Parada do Sil offers spectacular views of the Sil Canyon. Another amazing view can be found from the beer garden of the
Casa Grande De Cristosende
.
They also offer stylish accommodation here and its a great location to explore the area.
Darby comments
*Merenzao is the local name of the variety also known as Bastardo or Trousseau
This is a beautiful, rugged area full of stunning scenery. It is a wonderful contrast to the stereotypes we have of Spain.
I visited the region a couple of years ago and I'd love to return some day.
This is a poster showing some of the red wine grape varieties found the region.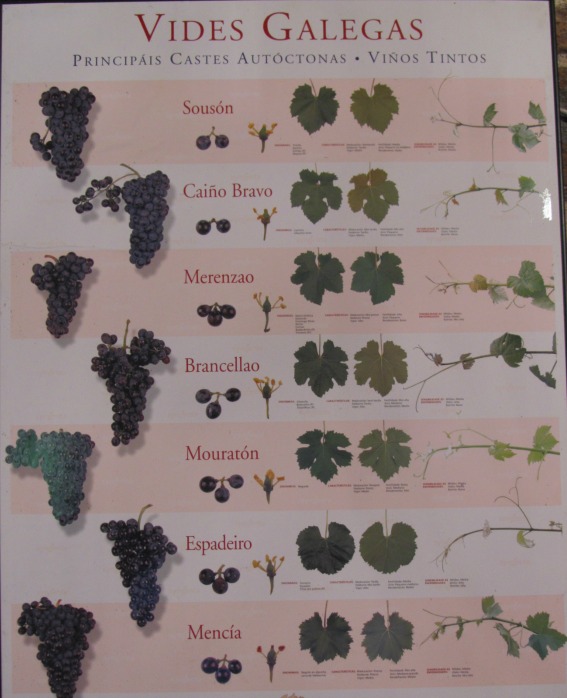 Just enter your details below and you will receive an occasional newsletter letting you know all about the alternative varietal wine scene in Australia and beyond.