James Halliday's Wine Atlas of Australia
James Halliday's Wine Atlas of Australia has been published at a very timely moment. The predecessor to this wine atlas was published about eight years ago and it is useful to reflect on how the Australian wine industry has changed in such a short time.
the number of wineries has more than doubled to over 2200
the area planted has increased by about 70 percent
wine production has also doubled
Australia now exports more wine than it consumes
dozens of new grape varieties have been released or are about to be
wine regions have been formalised into over 50 official Geographic Indications (GIs)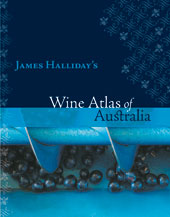 James Halliday is the most highly respected wine writer in Australia. His long career includes experience in every aspect of the industry. He has founded wineries, both in the Hunter Valley and the Yarra Valley, has a hands on role in the production of grapes, winemaking and marketing. He is in high demand as a wine judge and has been author or contributor to over 50 wine books. With credentials like that, James Halliday brings an unmatched mantle of authority to his words.
The Wine Atlas of Australia includes quality information on every one of its 300 plus pages. The introduction includes a discussion of climate, including possible scenarios of climate change, irrigation, terrior and concludes with a succinct explanation of Australia's emerging appellation system, rather quaintly known as Geographic Indications.
The body of the work is a thorough discussion of Australia's Wine Zones and Wine Regions. Yes, there is a difference. Each zone and region is illustrated by a clear and detailed map. Then follows a discussion of the climate, soil and topography and an overview of the major wine varieties and styles for each Australian Wine Zone and Region.
For each region a selection of the leading wineries are described and a signature wine is nominated.The Wine Atlas includes only about a quarter of Australia's wineries so it reflects the author's judgement about which wineries best represent each region.
Many wine publications include information about viticulture, wine making and wine evaluation. The Wine Atlas of Australia focuses on the intersection of grape variety, climate and terrior. Thus it manages to fit more value into is gorgeously illustrated pages.
This Atlas is a very timely addition to any decent wine bookshelf, or coffee table for that matter. You can order a copy online and have it delivered promptly.
The publication date for this fine book is July 2006. You can order your copy of James Hallidays Atlas of Australian Wine now. It can be delivered anywhere in the world.
The RRP is $79.95, but by following the link below you can get the book at a special price of $71.96. You will save a dollar or two even after freight are added. One of Australia's leading online booksellers will deliver the book via Australia Post for just $6.50 or via international air freight for just $20.00 or via economy air postage. If you order a few books at once the freight charges are very low. You can even order your copy of James Halliday's Wine companion at the same time.
Buy your copy of James Halliday's Wine Atlas of Australia