Wine Marketing Help for Wineries
About 10 million Australians have made at least one purchase online. How many of them have bought wine from you?
There are a few suggestions that might help you on this page.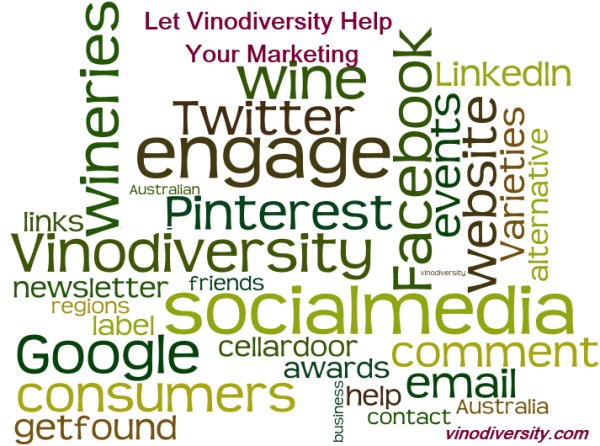 Vinodiversity exists to help Australian consumers to appreciate the wide range of wines made in Australia from alternative varieties.
But wineries and wine marketers can use Vinodiversity to help get their message across as well. I especially like helping the little guys rather than the big supply chains for supermarkets.
Here are some ways that Australian winemakers can use Vinodiversity to let my audience know about their more interesting wines. I have a large audience whose tastes go well beyond supermarket wines.
These actions below are easily done and they mostly are free. You don't have to get your webmaster to do them for you. None of them will cost you more than a few bottles of wine.
#1 Comment on Vinodiversity pages
There is a comment facility near most of the vinodiversity pages. You can find the pages relevant to you by using the regions index and variety index on Vinodiversity. These links open in separate windows for you, so you can easily click back here.
On the relevant variety or region page find the comment box and can just type in a message.
What can you say?
Let us know about the latest vintage release.
Or maybe you have just released a new variety.
Have you won an award or scored 97 points from you know who?
Maybe you will be interstate at a wine show and you'd like some of the locals in that city to come and taste.
Comments only need to be a sentence or two with the basic details.
Note: these comment boxes use a Facebook app, but you don't need a Facebook account to use them. If you do have a Facebook account you can tick the "Post to Facebook" box and your friends will see the comment as well.
What to do:
Go to the appropriate region or variety page on Vinodiversity, find the comment box near the bottom and start commenting.
#2 Share some wine labels
I'm a texty sort of personality. Texty, not testy. My site is short on graphics. If you have some nice bottle shots, or pictures of your vineyard or cellar door you'd like to share with Vinodiversity then you can send them to me.
I'll try to use your pix on appropriate page of Vinodiversity and with due acknowledgement of course. It will give you a little more prominence, and by making my pages a little less boring, help me engage my visitors a little.
What to do:
Use the contact form if this interests you.
#3 Let's get Social
Wine has always been a social product. It is best shared. Until very recently information technology has been the domain of nerds and geeks without much in the way of social skills. Now with the advent of social media we all have an excellent opportunity to engage our clients online.
I'm a sceptic about most of what happens on Twitter and Facebook, but savvy marketers are using it to really increase their client base and to generate repeat business.
So I use Facebook, LinkedIn, Google Plus, Pinterest and Twitter to spread my message (my message really revolves around sharing my passion for alternative varietal wines).
What to do:
If you use any of these social media channels (and I recommend that you do) then why not
I will reciprocate and we can both have bigger networks.
#4 See my Book Effective Tweeting for Wineries
Twitter is mostly noise. Just look at Twitter and you will see all sorts of rubbish, mostly in-jokes and self centred stuff. One look is enough for many people - it just looks like a vast conaggulation of time-wasters.
But amid the mountains of straw there are some strands of gold. I've already said that twitter is a social product, and like it or not people will use twitter to socialise.
Using Twitter effectively to sell wine is possible and I've written a book about it. The good news is you can read the first part of the book for free. The bad news is that you need to pay for the full book. But the best news is that if the book helps you to sell just one more case of wine you will be miles ahead. Try it and see.
What to do:
Read about it at https://www.vinodiversity.com/effective-tweeting-for-wineries.html
#5 Setting up a Facebook Page
I have thought about writing a book about Using Facebook for Wineries, but I couldn't quite Face it. (Yes, an awful pun!)
But I have found something even better. Better even than a book I could write, and that's saying something! My friends at Sitesell Services have developed a service where for just $99 they will build a professional Facebook BUSINESS page for you. And let's face it (another awful pun!) having someone else do the work for you is better than reading a book about it.
A business oriented PAGE at Facebook, rather than just an account to share pix of your new hat or grandkids, is a valuable business asset.
What to do:
Find out more about Sitesell Services at this page. Note the Facebook package is accessed via the first link near the top.
#6 Read or write for Varietal Wines Australia
OK, back to a freebie. I have a weekly newsletter - see http://paper.li/f-1307998381. It is easy to subscribe. You get a newsletter in your email every week. Nothing more. Your email is used only for that purpose, and it is easy to unsubscribe if you don't think it is useful.
But wait there's more! You can use the newsletter to publicise your events/news/new releases. Contact me if you are interested.
What to do:

Don't hesitate to Contact me if you wish to discuss any of this.
Keep in touch with Vinodiversity
Just enter your details below and you will receive an occasional newsletter letting you know all about the alternative varietal wine scene in Australia and beyond.