James Halliday's Australian Wine Companion
The James Halliday Wine Companion 2010 will be released soon.
Yes, I know you still think it's 2009, but the publishers like to get this book out well before Fathers' Day. It does make a great gift!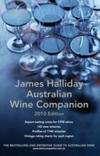 The bestselling guide to Australian wines and wineries from Australia's most respected wine writer. James Halliday's Australian Wine Companion is Australia's No. 1 guide to wineries and wines in this country. In it the writer, judge, winemaker and grape grower shares his considerable expertise, developed during his 30 years in the industry.
Extensively updated, with over 170 new wineries rated, the Companion is a must for all lovers of Australian wine. With tasting notes, vintage-specific star ratings, background information on particular wines, advice on optimal drinking and suggestions for complementary food dishes, anyone planning to visit a wine-growing region or to replenish their cellar or wine rack will find James Halliday's Wine Companion indispensable. The 2006 edition is Halliday's most complete and exhaustively researched yet. With new up-to-the-minute entries, it is an essential tool for all lovers of Australian wine and a must-have for anyone who is passionate about good drinking and the finer things in life.
The 2006 Companion was published on 27 July 2005. At under A$30 this book is a steal! Buy it online at a discount to the retail price!
Note: The 2007 Edition is out very soon! Don't miss out. You can preorder your copy now.
If you are a fan of James Haliday you will enjoy his new Wine Atlas of Australia
Here is a media release from Darby Higgs on Wine Companion 2006.
New wineries continue surge to varietal diversity.
The release of the 2006 Australian Wine Companion by James Halliday has highlighted again the growth and diversity of the Australian Wine Industry. Over half of the new entrants are using non-traditional grape varieties. Growers, winemakers and consumers are all continuing to seek new winegrape varieties.
This years Companion lists 172 new wineries making a total of just on 2000 listed. Of the 172 new wineries listed by Halliday, over half are using varieties other than the mainstream French varieties that have dominated the Australian wine industry since its inception.
Commenting on the release of the 2006 Wine Companion Australian varietal wine expert Mr Darby Higgs said "While much attention has been given to mergers and acquisitions at the top end of town a quiet revolution is gathering pace among small and medium wine producers."
"Wines from new varieties are now finding their way into bottleshops and onto restaurant wine lists. Consumers are demanding something different, and the innovators in the wine industry are giving them plenty of choices'" Mr Higgs said.
"Just over a hundred winegrape varieties are used commercially in Australia, but a mere handful make up three quarters of Australian Wine.
"Shiraz, Cabernet Sauvignon, Merlot, Chardonnay and Semillon are still dominating exports and supermarket shelves but there are plenty of options available for wine lovers who want to extend their experience. Nearly a thousand Australian wineries are now using no-traditional varieties for at least some of their production. Mr Higgs added.
Alternative grape varieties used by varieties used by wineries listed as new in James Halliday's Australian Wine Companion 2006 are listed below.
Barbera (4 new wineries are using this variety), Carina (1), Chambourcin (5), Chenin blanc (4), Cinsaut (1), Colombard (1), Corvina (1), Dolcetto (1), Durif (2), Gamay (1), Gewurztraminer (7), Grenache (21), Lagrein (2), Malbec (7), Marsanne (3), Meunier (3), Mourvedre (9), Muller Thurgau (1), Muscadelle (1), Petit verdot (6), Pinot Grigio (16), Rondinella (1), Roussanne (1), Sangiovese (9), Taminga (2), Tarrango (1), Tempranillo (4), Verdelho (14), Vermentino (2), Viognier (16), Zinfandel (1)

Darby Higgs is the founder of Vinodiversity.com and the Author of "Emerging Varietal Wines of Australia" to be published in November 2005.
Telephone
61 3 9397 7971

---