Dog Wine Labels
This page celebrates winelovers who also appreciate dogs, or maybe it is for doglovers who like wine.
Anyway it is a bit of fun to share.
A few years ago Craig McGill published a book Wine Dogs which was a bit of a hit. It sold several editions and overseas versions and calendars were printed. But our faithful companions also help to sell wine direct from the label.
I have collected many of the images on this page and made a board at Pinterest.
You can visit the board and make comments, or if you have a Pinterest account you can repin them to spread the fun around.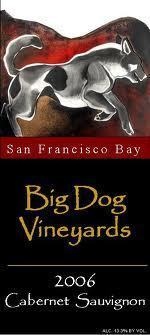 Dogs have a strong marketing attraction.
Ads featuring dogs, either in printed media or on television, have the power to attract interest from jaded consumers in a crowded marketplace. So we shouldn't be surprised that wine label designers and wine marketers have cottoned on.
One winery that is giving back to our canine friends is Cru Vin Dogs Wine Group. They donate 10% of the proceeds of the sale of one of their wines to the Canine Companions for Independence organisation who train and provide assistance dogs for disabled people in the US.
Sometimes the winery has deliberately chosen their dog name, or sometimes the name has derived from a pre-existing geographic location. For example Wild Dog Winery is in Warragul Victoria.
Some More Wine Dog Labels
Here are just a few interesting labels I have come across.
---
---
Keep in touch with Vinodiversity
Just enter your details below and you will receive an occasional newsletter letting you know all about the alternative varietal wine scene in Australia and beyond.