2012 Wine Guide Reviews
Each year we see a new crop of wine guides coming out. They start at the end of July, for those publishers who like to have something available for Fathers Day Gifts, but other publishers bring out their Wine Guide throughout September and October.
Here are a few you might consider, they are all available at a discount from this store and with free worldwide shipping.
Australian Wine Guides
Australian Wine Vintages 2012 by Rob Geddes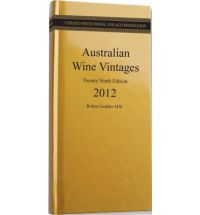 Also known as the "Gold Book" this publication is now in its 29th edition. The first edition was written by Robin Bradley and had a forward by Prime Minister Malcolm Fraser.
Rob Geddes is one of the few Masters of Wine in Australia. He works extensively as a consultant, wine judge, commentator and teacher. He has been responsible for Australian Wine Vintages since 2008.
The Gold Book is a hardback. It contains information on the past few vintages of each wine listed so you can look up his advice on how wines in your cellar may be aging.
From the blurb on last years edition:
The Australian Wine Vintages 2011 includes:
Detailed tasting notes for over 3000 wines from both Australia & New Zealand
Advice on vintage quality
When to drink each wine
Australia's first national wine travel guide listing the best places to stay and eat in each wine region
Advice on the best regional wine styles and producers in each district
NEW!! After Dinner Drinks section with detailed tasting notes for Australian Spirits, liqueurs & fortified wines
Order your copy of Australian Wine Vintages now
James Halliday Australian Wine Companion 2012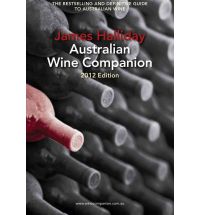 The James Halliday Wine Companion has been the best selling and most widely recognised guide for may years. Halliday has built a formidable reputation and is the benchmark for other wine Guides.
Readers will be familiar with the format: there is extensive industry information at the start of the guide, lists of the best wines and wineries in various categories and snapshot reports of the recent vintage in Australia's wine region.
The 2012 edition contains profile descriptions of 1477 wineries including 102 new wineries.
Tasting notes are given for the best wines of the profiled wineries so that a total of 3424 of wines are described with notes. Another 3403 wines are listed along with their points, suggested drink time and
The Wine Companion has been fighting a long battle of the bulge, every year the pressure is on to cover more wines and more wineries but the book has to be kept to a reasonable size - 760 pages is big enough. The solution is to relegate a considerable number of winery listings to the Wine Companion website. The printed version has thus lost its value as a comprehensive guide.
International Wine Guides
Here is a selection of wine guides by authors outside Australia. They do have some coverage of Australian wines, but tend to emphasis those which are more commonly available.
Oz Clarke 250 Best Wines 2012: Wine Buying Guide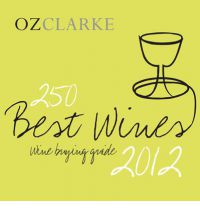 I don't know why he just has 250 wines, don't tell me he's going to have 146 dry days, or perhaps someone else is going to choose for him some times.
Anyway Oz Clarke really knows his stuff. Almost every day I draw on his knowledge of varieties in Grapes and Wines
The aim in not to cover the whole field, but to give guidance to newcomers and relative newcomers on wines that are generally available. But of course OZ manages to pack in plenty of his wisdom and information along the way.
Available from early October 2011.
Order your copy here - Just AUD$7.97 including postage. Now that's a bargain!
Hugh Johnson's Pocket Wine Book 2012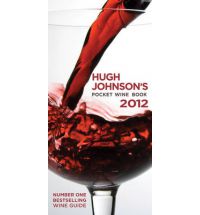 Hugh Johnson is huge! Well his standing in the British wine scene is huge.
But his book is relatively small, just 320 pages. He does manage to pack 6000 wines into his guide. this year there is a special feature on the wines of Southern France, and there is a new section suggesting wines to try based on what the reader already likes.
The book is aimed at the UK market, but you can find most of the wines described where ever you are around the world
Order this book online for just AU$17.32 including freight.
Keep in touch with Vinodiversity
Just enter your details below and you will receive an occasional newsletter letting you know all about the alternative varietal wine scene in Australia and beyond.