Sponsorship of New Edition of Vinodiversity Book
An opportunity for wineries to boost their alternative varieties
I am preparing the third edition of my book called
Emerging Varietal Wines of Australia
, the second edition was called
Vinodiversity the Book
.
Although these books had modest success I think they are best described as being
very boring books about a very exciting subject
For the third edition there will be many more wineries listed and a considerable of new varieties. So the book will be bigger.
This time I am inviting Australian wineries to participate in promoting their alternative varieties by providing images to include in the book. I hope the images will make the book less boring.
Since the last edition was published in 2010 the world of publishing has changed dramatically. For the 2014 edition I will be concentrating on the ebook market. The book will be published as a Kindle book on the Amazon platform, as a book on the Apple program, for Macs and for iPads and iPhones and for several other ebook platforms.
I will also produce a hard copy version of the book, but the formating and marketing will be aimed at the ebook market.
To make the book more attractive I want to include images in the body of the book in relevant sections.
For example I will have an entry in the book on Fiano. Without the graphics it might look like this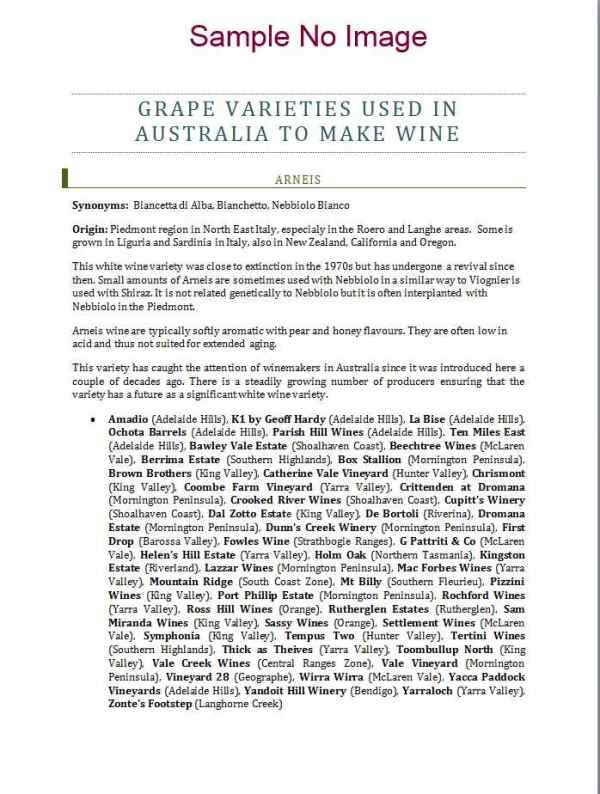 With your input it might look like this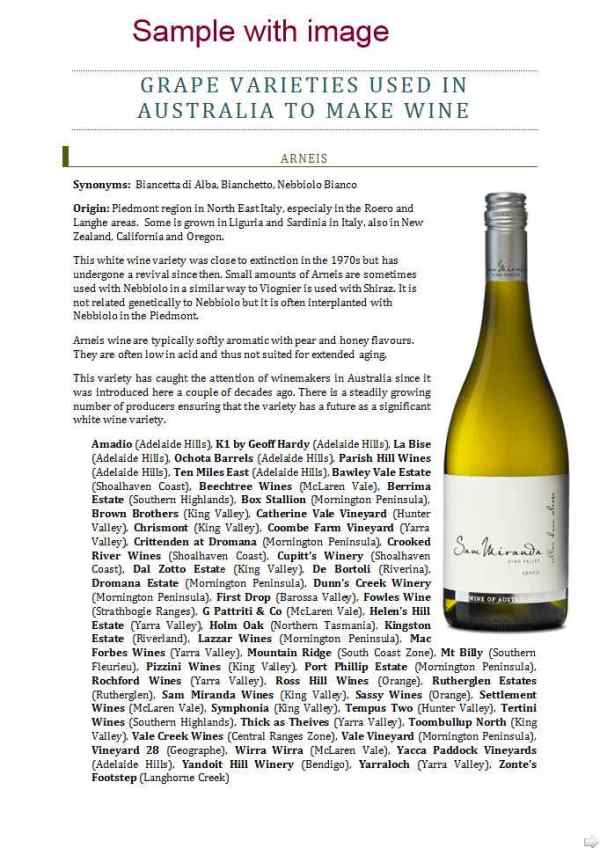 The book will also have images throughout the regional pages.
What's in it for you?
Your wine will be given prominence in a place where consumers are seeking information about the varieties you make.
The book will be promoted and marketing extensively through my Vinodiversity website, my new Vinodiversity Magazine for iPad and also via social media.
I have a strong social media presence among discerning Australian wine lovers, especially those who are looking beyond the narrow varietal range of most Australian wine. These people are hungry for information and thirsty for your wines, or they will be after seeing your label in my book.
Your image can be make clickable in the electronic versions
Potential customers can go directly to your home page or even to your sales page. More and more consumers are moving to purchasing online via their computers and expecially mobile devices. Your presence in this highly targeted marketplace could be very useful in acquiring some new customers.
By supporting this book you will be helping to spread the message about alternative varieties to consumers
. In the longer term we all benefit by working cooperatively.
Sponsors will be supplied with 5 copies of the paperback version of the book
If you wish to sell more i can supply them at a reasonable wholesale price.
How do you get involved and how much will it cost.
At the moment I collecting expressions of interest and bids for inclusion in the entries for particular varieties. You will need to supply appropriate graphics, either quality images of bottle shots, labels or winery logo. In some cases I will be able to download these from your website otherwise your web designer or Label designer/printer will have these.
There is a limit to the number of image spots available. Most varietal entries will only have one image. There may be exceptions for varieties like Tempranillo where there are many producers we may be able to fit in two or three images. Pricing
First entry $200 - an image embedded in a page about one of your varieties
Second and subsequent entries $100 each.
For example if you want to have an image in each of the Colorino, Dornfelder, and Mencia varietal entries plus an image in the Manjimup regional entry then your cost will be $500.
Remember first in best dressed for this marketing opportunity
Please contact me via this form or by ringing 03 9397 7971 if you are interested in pursuing this further.