Wine Education Canada
Canada is a minor wine producing country but there are many wine consumers and professionals looking to improve their knowledge of wine.
List of Wine Education Courses in Canada
There are no entries so far in the Wine Education Directory for Canada
If you are a course provider perhaps you can get the ball rolling by filling in the Submit Your Wine Education Course page.
If you know of a course that should be here perhaps you can suggest to the provider that they submit their course via the Submit Your Wine Education Course page.
Can't find what you are looking for?
Use this Search Box to search the internet.

Course organisers: You can submit details of your wine education course here
Kevin Zraly's Complete Wine Course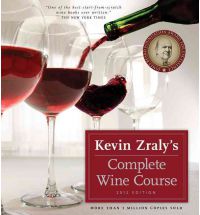 This book includes topics such as:
Wine Basics,
Tasting Wine,
Matching Wine and Food,
Frequently Asked Questions About Wine
Selected Glossary.
Kevin Zraly's Complete Wine Course is available from Book Depository the cheapest way to get books delivered worldwide at very competitive prices
Keep in touch with Vinodiversity
Just enter your details below and you will receive an occasional newsletter letting you know all about the alternative varietal wine scene in Australia and beyond.