Wine Education Australia
Australia's love affair with wine continues. Despite competition from other drinks (don't mention alcopops) more and more Australians are drinking wine, enjoying it and eager for more knowledge.
I have built this Wine Education Directory to help wine course providers in touch with winelovers and others wishing to learn more about wine.
List of Wine Education Courses in Australia
Bendigo
Brisbane
Melbourne
Sydney
---
Can't find what you are looking for?
Use this Search Box to search the Internet.

Course organisers: You can submit details of your wine education course here
Kevin Zraly's Complete Wine Course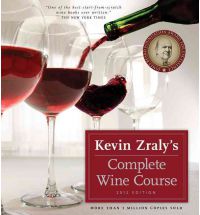 This book includes topics such as:
Wine Basics,
Tasting Wine,
Matching Wine and Food,
Frequently Asked Questions About Wine
Selected Glossary.
Kevin Zraly's Complete Wine Course is available from Book Depository the cheapest way to get books delivered worldwide at very competitive prices