Varietal Wines Magazine
March issue now available
.
Stories in clude, Sagrantino, Vermentino and Mencia Grape varieties, King Valley Wine Region, The Business of Wine amd more...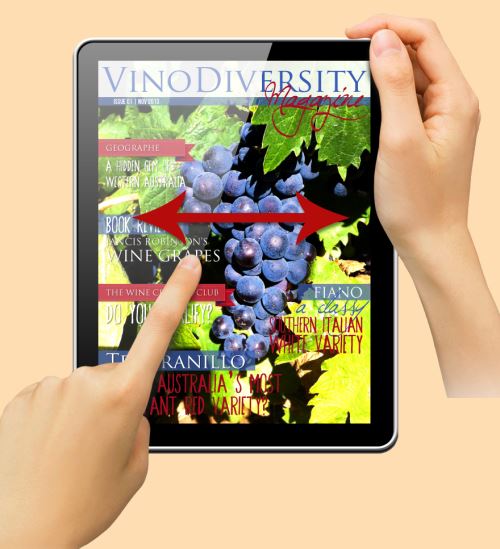 I am now publishing a digital Vinodiversity Magazine, as a companion to the Vinodiversity website.
Don't have an iPad or iPhone?
I hope to be able to publish in more platforms soon.
In the meantime you can subscribe to my email weekly newsletter Varietal Wines Australia
The Magazine will be published regularly (initially 6 -12 times a year) in the Apple Newsstand.
It will be readable on iPads and iPhones
.
Later issues will be readable on other platforms such as Android.
Access to the magazine will be via a paid subscription in the Newsstand store.
The content will concentrate on Australian Wines made from unusual varieties, with some international content.
Each issue will include
editorial copy
written material and images from contributing wine writers/bloggers,
Wine tasting notes
photo essays
embedded videos that can be viewed inside the magazine
food pairing ideas and recipes
reference section
paid advertising
Planned themes for the first issue (to be published in late 2013) are
Tempranillo red wine variety
Fiano white wine variety
The Geographe wine region in WA
Why explore? Guest article
Review of Jancis Robinson's Grapes and Wines
Issue 5 Cover - click to download
Please contact me if you have comments or questions about this project.
---